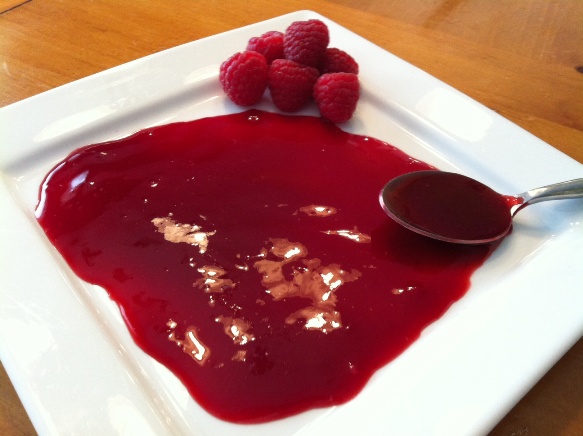 Homemade Raspberry Glaze
This Homemade Raspberry Glaze recipe is very easy to make! It is a great topping for many different dessert dishes, including cheesecakes!
Ingredients
2 pounds (32 oz.) fresh raspberries
1/2 cup sugar
2/3 cup water
2 teaspoons lemon juice
1 tablespoon corn starch
Combine the water, raspberries, sugar, and lemon juice in a large saucepan on high heat. Stir thoroughly while bringing it up to a boil.
After the mixture begins to boil, reduce the heat to low, and allow to cook for up to ten minutes, occasionally stirring throughout. As the raspberries soften, use a wooden spoon to break them in pieces to release the flavors from the raspberries.
Remove from heat. Using a strainer, pour liquid into a bowl ensuring to press as much juices through strainer with wooden spoon. Dispose any of the solid raspberries leftover from mixture, and return liquid to pan on low heat.
Meanwhile, whisk the cornstarch with 3 tablespoons of water in a small bowl. Then, pour into the simmering pan of raspberry juice.
Increase heat to high, and continue to whisk the mixture until it thickens into a glaze (approximately 3-5 minutes).
Remove glaze from heat, and pour into separate bowl to cool down. Once the glaze has reached room temperature, place in refrigerator until it is chilled.  Enjoy this Homemade Raspberry Glaze recipe!
Notes / Suggestions
Try this delicious homemade raspberry glaze recipe as a topping for The Perfect Cheesecake recipe!
Total Time (duration): 20-25 minutes