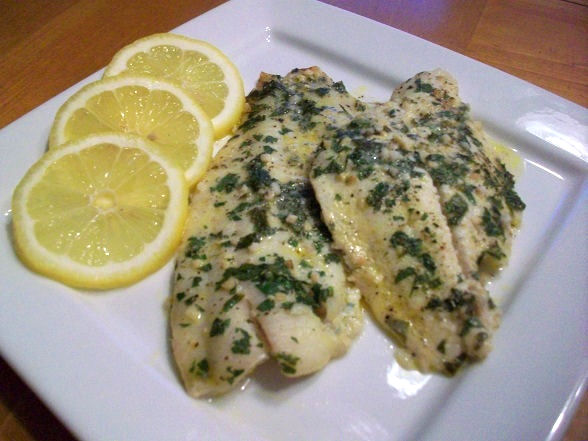 Baked Flounder with Lemon-Garlic Butter Sauce
This Baked Flounder with Lemon-Garlic Butter Sauce is a very quick and easy fish recipe to make. The combination of these simple ingredients bring lots of flavor to this flounder dish.
Ingredients
2 pounds Flounder
4 tablespoons butter, melted
1/4 cup white wine
2 tablespoons lemon juice
2 cloves garlic, minced
2 tablespoons fresh parsley, chopped
Salt and black pepper to taste
Instructions
Preheat oven to 375 degrees F.
Meanwhile, combine melted butter, white wine, lemon juice, garlic, and chopped parsley in a bowl and mix together. Set aside.
Cover a large baking pan with aluminum foil. Then spray the foil with non-stick cooking spray. Place flounder filets in the baking pan. Make sure to keep the evenly space out the flounder filets to keep them from touching each other.
Season flounder with salt and black pepper. Then pour lemon-garlic butter mixture over top of the flounder.
Place the baking pan with the flounder in the oven once it's reached the desired 375 degrees F temperature. Bake for up to 10 minutes, or until fish flakes. Keep an eye on the flounder to avoid overcooking it.
Remove flounder from oven and place on a serving dish. Enjoy this Baked Flounder with Lemon-Garlic Butter Sauce!
Notes / Suggestions
Serve this Baked Flounder with Lemon-Garlic Butter Sauce with a glass of dry white wine.
I'm not a professional chef...far from it. But I enjoy cooking. So I decided to start a website to keep track of all my favorite recipes. While I share my recipes with you, I hope you'll share yours with me.