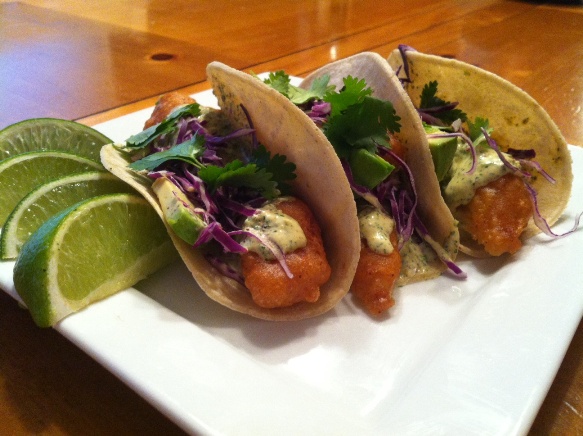 Crispy Fish Tacos with Cilantro Cream Sauce
This Crispy Fish Tacos with Cilantro Cream Sauce recipe packs a flavorful punch of fresh ingredients. The fish tacos are beer battered and fried for a crispy outside and flaky inside, while the cilantro sauce adds a spicy and creamy topping that brings this whole recipe together.
---
Ingredients
For the Fish:
1 pound fish (tilapia or mahi mahi)
1 1/2 cups flour, separated
1 teaspoon paprika
1 teaspoon chili powder
1 teaspoon ground cumin
1 teaspoon garlic powder
1 teaspoon salt
3 cups beer, separated
Vegetable oil for frying
For the Taco:
Corn Tortillas
Sliced Avocado
1/4 cup fresh cilantro
1/2 head of red cabbage, sliced
Lime wedges for garnish
For the Cilantro Cream Sauce:
1/2 cup sour cream
1/2 cup mayonnaise
2 garlic cloves
2 green onions (scallions)
1 jalapeno, stemmed
1/2 cup fresh cilantro
1/2 tsp chile powder
1/2 tsp cumin
1/2 teaspoon dried oregano
1/4 teaspoon salt
1/4 teaspoon all spice
Juice of 1 lime
What you'll need:
---
Instructions
Cut fish fillets into strips and marinate in two cups of beer in the refrigerator for at least 30 minutes.
In a bowl, whisk together 1 cup of the flour with the paprika, chili powder, ground cumin, garlic powder, and salt. Stir in remaining cup of beer and allow to sit at room temperature for about 30 minutes.
Combine all ingredients for the Cilantro Cream Sauce in a food processor, and pulse several times until pureed.  Place the sauce in the refrigerator.
When ready to cook, heat at least 2″ depth of vegetable oil in a large sauce pan on high heat until temperature reaches 375 degrees F.
Meanwhile, remove fish from beer marinade and pat dry.  Season fish with salt and black pepper, and toss in remaining 1/2 cup of flour.  When oil is hot, coat each fish in the beer batter and shake off any excess batter.  Fry fish in oil for approximately 4-5 minutes until outside is crispy and inside is flaky, turning fish occasionally to avoid sticking. Remove fish from oil and set on wire rack.
While the fish is cooking, heat tortillas in oven or microwave until tortillas are soft and flexible.  To prepare the tacos, start by placing fish in tortilla and top with Cilantro Cream Sauce, sliced avocados, sliced red cabbage, and fresh cilantro.  Then, place fish tacos on serving plate with lime wedge garnishes and enjoy this Crispy Fish Tacos with Cilantro Cream Sauce recipe!
---
Notes
This Crispy Fish Tacos with Cilantro Cream Sauce recipe goes great in the Summer with an ice cold beer or fruity cocktail.