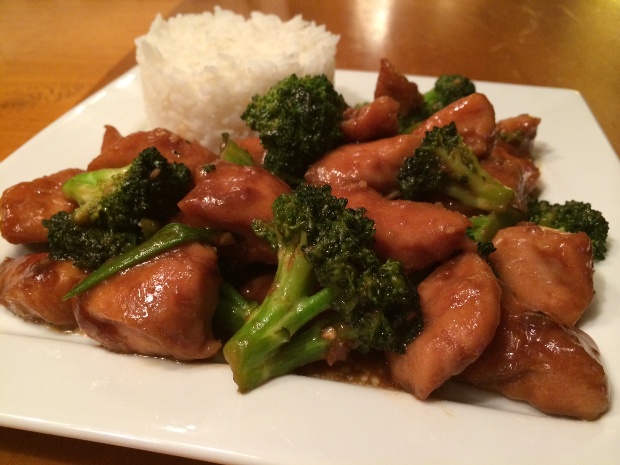 Chinese Chicken with Broccoli
This Chinese Chicken with Broccoli recipe is an easy to make homemade version of your favorite Chinese chicken take-out recipe! This recipe is best when served along with white rice or brown rice. 
---
Ingredients
1 1/2 pounds boneless skinless chicken breasts, but into small cubes
1 pound fresh broccoli florets
3 tablespoons vegetable oil
1/4 cup fresh scallions, diced
For the Marinade:
1/2 teaspoon baking soda
1 teaspoon sugar
1 tablespoon cornstarch
1 tablespoon soy sauce
1 tablespoon water
1 tablespoon vegetable oil
1 tablespoon sesame oil
For the Sauce:
1/4 cup soy sauce
2 tablespoons brown sugar
2 tablespoons flour
2 tablespoons rice vinegar
4 garlic cloves, minced
1/2 teaspoon red pepper flakes
---
Instructions
In a bowl for mixing, whisk together all of the ingredients for the marinade including the baking soda, sugar, cornstarch, soy sauce, water, vegetable oil, and sesame oil.  Toss the chicken into the marinade, ensuring the coat them evenly. Set aside.
In a separate bowl, whisk together all of the ingredients for the sauce, which includes the soy sauce, brown sugar, flour, rice vinegar, minced garlic, and red pepper flakes. Set aside.
Next, heat 2 tablespoons of vegetable oil over high heat in a large skillet. Add broccoli and saute for 2-3 minutes until broccoli begins to soften. Remove broccoli from heat and transfer to a plate.
Reduce the heat to medium-high and add the remaining tablespoon of vegetable oil. Add the marinaded chicken and half of the sauce, and saute until chicken is cooked through. When the chicken is cooked through, add the broccoli, scallions, and remaining sauce to the pan. Cook for an additional 2-3 minutes to allow the sauce to thicken.
Remove from heat and serve with white or brown rice. Enjoy this Chinese Chicken with Broccoli recipe!
---
Notes
You may also try making this Chinese Chicken with Broccoli recipe with beef or shrimp instead of the chicken. Adjust your cook times accordingly for these substitutes.