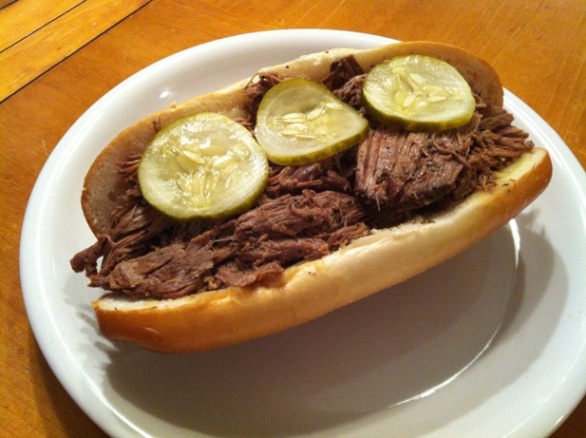 Hand Carved Hot Roast Beef Sandwiches Recipe
When you're in the mood for an authentic hot roast beef sandwich recipe, don't settle for using just roast beef lunchmeat.  Instead, try making this amazing Hand Carved Hot Roast Beef Sandwiches recipe and you will be thinking you bought it at some famous sandwich shop!
Ingredients
1 boneless top round beef roast, about 4 pounds with most of the fat trimmed off
The Rub
1 tablespoon salt
1 tablespoon ground black pepper
1 tablespoon garlic powder
1 tablespoon onion powder
1 tablespoon dried basil
1 tablespoon dried oregano
1 teaspoon crused red pepper
The Juice
4 cups water
4 cubes/packets of beef bouillon
The Sandwich
8 Italian rolls
Sharp provolone cheese slices
Deli pickle slices
Horseradish sauce (optional)
Instructions
Preheat oven at 325 degrees F.  Coat entire beef evenly with dry rub mixture (leave some extra dry rub seasoning to be added to juice).
Meanwhile, pour water into a deep 9 x 13″ roasting pan.  Mix in beef bouillon, as well as any excess dry rub mixture.  Heat the pan on the stove on high heat, until boiling.  Reduce to simmer and allow to cook 3-4 minutes, stirring frequently.  Remove from heat.
Place a roasting rack inside the pan, then place the beef on top of the rack.  Cover with aluminum foil and cook in over for 2 hours, approximately 30 minutes per pound.  After the 2 hours, remove the aluminum foil and continue to cook uncovered an additional 15-20 minutes to allow beef to brown.  Remove from oven an set aside and allow beef to rest before carving, approximately 10-15 minutes.
Meanwhile, pour the juice from the bottom of the pan into a separte saute pan on low-medium heat.  Transfer the roast beef slices into the juices in the saute pan and mix thoroughly.  Cook for and additional 4-5 minutes in pan, then remove from heat.
To assemble the sandwich, place 2-3 slices of sharp provolone cheese in the Italian roll.  Add the roast beef on top of the cheese in the roll, and spoon additional juice from pan over the roast beef.  Top with with pickle slices and horseradish sauce (optional).  Enjoy this delicious Hand Carved Hot Roast Beef Sandwiches recipe!
Notes
You may also choose to add hot peppers as a topping for this Hand Carved Hot Roast Beef Sandwiches recipe!