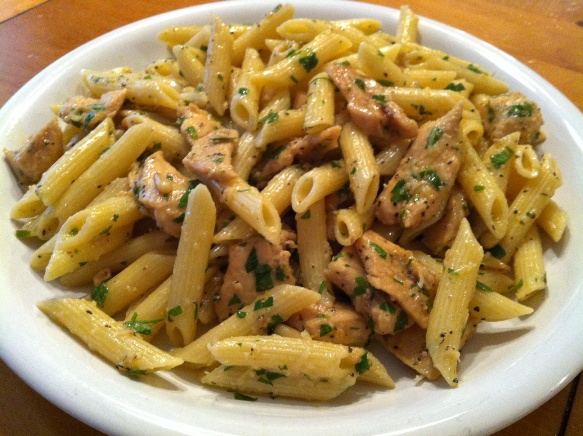 Lemon Chicken Pasta with Toasted Pine Nuts
This is a very simple pasta dish to make, yet features very pronounced flavors.  The toasted pine nuts add a whole different element to your normal pasta recipes.  This Lemon Chicken Pasta with Toasted Pine Nuts recipe will quickly become a favorite in your household.
Ingredients
1 pounds pasta (penne or rigatoni recommended)
1 pound boneless chicken breast, cut into small chunks
1/3 cup pine nuts
Extra virgin olive oil (enough to coat the bottom of a large skillet)
2 tablespoons butter
1 tablespoon minced garlic
The juice and zest of 1 lemon
1/3 cup freshly grated parmesan reggiano cheese
2 tablespoons fresh parsley, chopped
Salt and black pepper to taste
Instructions
Bring a large pot of lightly salted water to a boil. Cook pasta for 8-10 minutes, until al dente, and drain.
Meanwhile, heat olive oil and butter in large skillet over medium-high heat.  Add garlic and chicken.  Season chicken with salt and black pepper.  Allow chicken to cook through, approximately 5-6 minutes.
While chicken is cooking, preheat a small pan on medium heat.  Add pine nuts to pan and cook for up to 3 minutes until lightly browned and toasted.  Be sure to stir occasionally so the pine nuts heat evenly.  This will allow the flavor of the pine nuts to become more pronounced.
Next, add pine nuts to large skillet with the chicken.  Also, add the lemon zest and juice and mix thoroughly.  Allow to cook an additional 2-3 minutes.
Finally, remove from heat.  Add pasta to the large skillet, then sprinkle with parmesan reggiano cheese and parsley.  Stir gently, season with salt and pepper if needed.  Then serve this delicious Lemon Chicken Pasta with Toasted Pine Nuts recipe and enjoy!
Notes
I prefer serving this Lemon Chicken Pasta with Toasted Pine Nuts recipe with a nice glass of white wine.