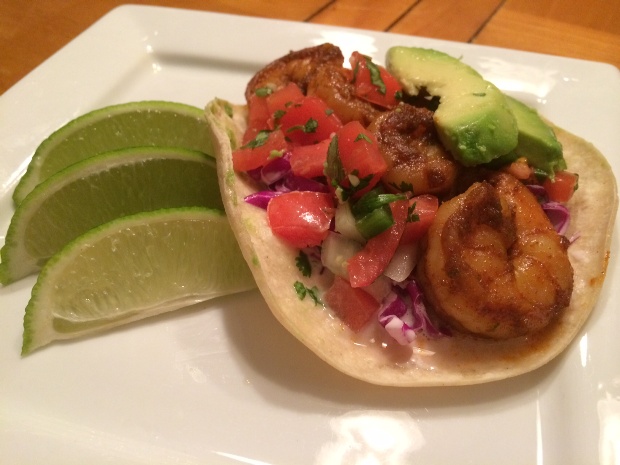 Sweet and Spicy Shrimp Tacos
This Sweet and Spicy Shrimp Tacos recipe is a great recipe if you're in the mood for seafood and tacos.  This recipe has a great balance of sweet and spicy that will surely excite your taste buds!
---
Ingredients
For the Shrimp:
1 1/2 pounds large shrimp, peeled and deveined
2 tablespoons brown sugar
1 tablespoon chili powder
1 teaspoon ground cumin
1 teaspoon smoked paprika
1 teaspoon garlic powder
1/2 teaspoon cayenne pepper
Finely grated zest from 2 limes
1/4 cup canola oil (plus 1 tablespoon for cooking)
For the Slaw:
1 head purple cabbage, cored and sliced thin
1 whole jalapeno, chopped
1/2 cup whole milk
1/2 cup mayonnaise
1 teaspoon white vinegar
1 tablespoon white sugar
1/2 teaspoon salt
1/4 teaspoon cayenne pepper
1/2 cup cilantro, chopped
For the Tacos:
12 corn tortillas, warmed
Pico de Gallo (click for recipe)
2 avocados, sliced
Lime wedges for garnish (optional)
---
Instructions
First, let's prepare the marinade for the shrimp. In a large bowl, mix together the brown sugar, chili powder, ground cumin, paprika, garlic powder, cayenne pepper, and lime zest. Then, pour in the canola oil and mix together. Add the shrimp to the bowl thoroughly mix together to ensure the shrimp is evenly coated in the marinade. Set aside and allow to marinade for 15-20 minutes.
Meanwhile, let's make the slaw. Combine the sliced cabbage and chopped jalapeno in a bowl. In a separate bowl mix the milk, mayonnaise, white vinegar, sugar, salt, and cayenne pepper. Pour the mixture over the cabbage, and toss to combine. Cover and refrigerate for 15-20 minutes (or up to an hour if you have the time).
Now, we will cook the shrimp. Preheat 1 tablespoon of canola oil in a large skillet on high heat. Add the marinaded shrimp to the skillet and cook until opaque and cooked through, turning once (approximately 2-3 minutes per side). Remove from heat.
Finally, let's assemble the tacos. On top of the warmed corn tortillas, assemble the slaw, Pico de Gallo, shrimp, and avocado slices. Garnish lime wedges (optional). Then enjoy this Sweet and Spicy Shrimp Tacos recipe!
---
Notes
If you're a cilantro lover like myself, you may garnish the Sweet and Spicy Shrimp Tacos recipe with additional chopped cilantro!