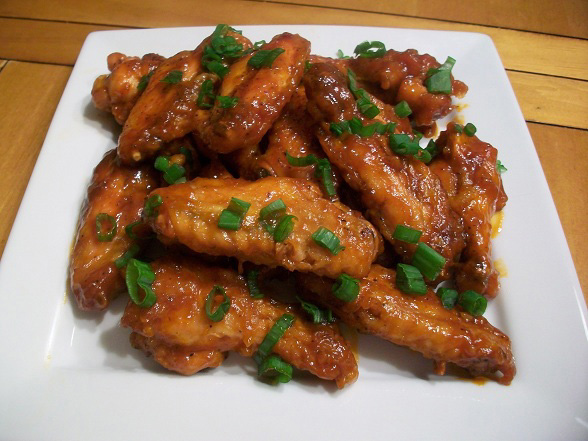 Baked Spicy Asian Sesame Chicken Wings
Spice up your game-day meal with this awesome chicken wing recipe! These tasty, finger-licking baked Spicy Asian Sesame Chicken Wings are a more than worthy alternative to the common Buffalo flavored wings.
Ingredients
2 pounds chicken wings, separated at joints, tips removed, and rinsed clean
1/4 cup sesame oil
3/4 cup Sweet Baby Ray's Barbecue Sauce
1 tablespoon minced garlic
1 tablespoon ground ginger
1 tablespoon ground cayenne pepper
1 tablespoon hot sauce
2 tablespoons green onions, sliced
Salt and black pepper to taste
Instructions
Preheat oven to 400 degrees F.
Cover an entire sheet pan with heavy duty aluminum foil. Be sure to wrap excess around edges. Spray entire surface with non-stick vegetable oil.
Spread chicken wings evenly throughout the pan. Then lightly sprinkle salt and pepper over the wings. Place in oven and allow to cook for 20 minutes. After 20 minutes, turn the wings over, and cook for another 20 minutes.
Meanwhile, in a large bowl, combine and thoroughly mix the sesame oil, barbecue sauce, minced garlic, ground ginger, cayenne pepper, and hot sauce.
Once the chicken has finished cooking (the wings should appear lightly browned), remove the chicken from the oven and dump them into the large bowl with the Asian sesame sauce. Lightly toss with a spatula, making sure to coat all the chicken. WAIT! Do not serve yet! Allow the chicken wings to sit for up to 5 minutes, and then toss again. After that second tossing, NOW you can place the chicken wings on a serving dish.
Sprinkle the sliced green onions over top of the chicken wings, and enjoy this Spicy Asian Sesame Chicken Wings recipe!
Notes / Suggestions
Try dipping these baked Spicy Asian Sesame Chicken Wings in our delicious Chunky Blue Cheese Dressing recipe!
You may also add sesame seeds as a garnish for this dish.