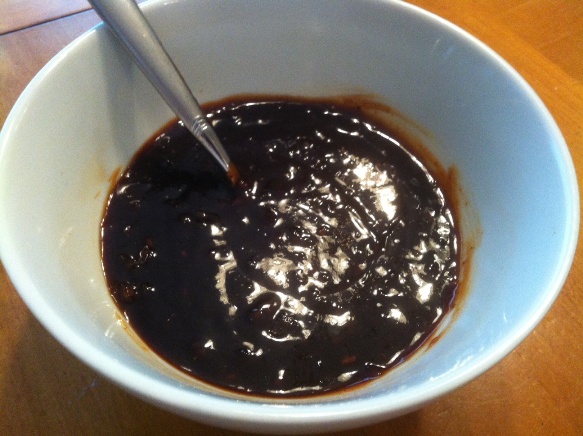 Homemade Sweet Bourbon Barbecue Sauce
Looking for an easy to make, yet unique and flavorful homemade barbecue sauce recipe to make?  Then you have to try my delicious Homemade Sweet Bourbon Barbecue Sauce recipe!
Ingredients
1/2 sweet onion, chopped
2 garlic cloves, minced
1/2 cup bourbon whiskey
1 cup dark brown sugar
1/2 cup ketchup
1/4 cup soy sauce
1/4 cup Worcestershire sauce
2 tablespoons hot chile sauce
1 tablespoon chili powder
2 teaspoons ground dry mustard
1/2 teaspoon ground black pepper
Instructions
In a large skillet over medium heat, combine onion, garlic, and bourbon whiskey.  Simmer for 10 minutes.
Next, mix in the brown sugar, ketchup, soy sauce, Worcestershire sauce, chile sauce, chili powder, dry mustard, and black pepper.  Simmer for 30 minutes, stirring occasionally.  Afterwards, allow to cool to room temperature and refrigerate until ready to use.   Enjoy this Homemade Sweet Bourbon Barbecue Sauce recipe!
Notes
You may add an extra tablespoon of chile sauce if you prefer your Sweet Bourbon Barbecue Sauce even spicier!  Try this barbecue sauce on my Slow-Roasted Pulled Pork Sandwiches recipe or on any of your personal favorite BBQ dishes such as chicken or even on burgers!