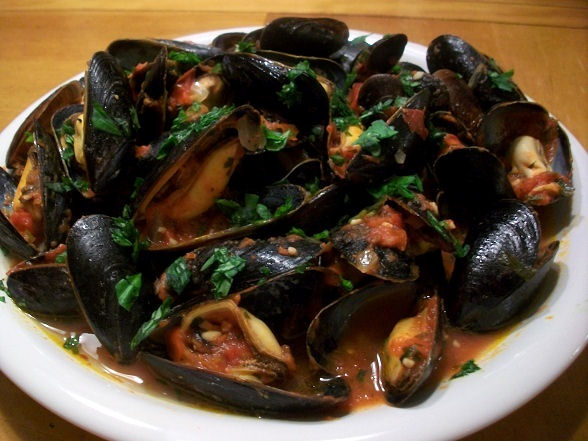 Mussels Marinara Recipe
Making mussels is much easier than it appears. This delicious Mussels Marinara recipe can be served over a bed of pasta, or by itself alongside a good loaf of Italian bread for dipping.
Ingredients
4 pounds fresh mussels, debearded, scrubbed and rinsed
3 tablespoons olive oil
1 medium sweet onion, chopped
4 cloves garlic, chopped
1 cup white wine
2 (28 oz) cans crushed tomatoes
1/2 cup fresh parsley, chopped
1/2 cup fresh basil, chopped
1 tablespoon crushed red pepper flakes
Salt and black pepper to taste
Instructions
Heat olive oil in large saute pan over medium heat. Add the onion and garlic and cook until translucent.
Stir in wine, crushed tomatoes, parsley, red pepper flakes, salt and pepper. Allow to cook for 2-3 minutes.
Next, add the mussels to the pan and cover with lid. Allow to cook for up to 10 minutes. You will know the mussels are cooked through when the shells are opened.
Remove mussels from heat. Transfer mussels to a large serving bowl or dish. Coat the mussels with the sauce and sprinkle with freshly chopped basil. Then serve the Mussels Marinara and enjoy!
Notes / Suggestions
Check out our instructional video on How To Clean and Debeard Mussels.
Make sure to discard any mussels that do not open after cooking. This Mussels Marinara recipe is great with Italian bread or over pasta.
Total Time (duration): 30 minutes
Number of Servings: 4-6