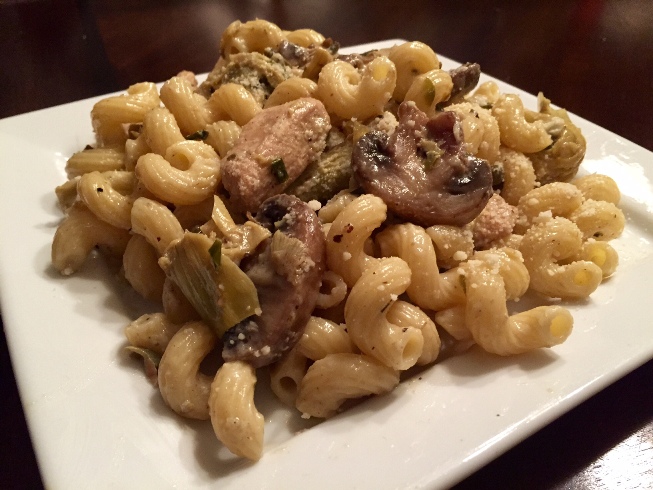 Pasta with Chicken, Mushrooms and Artichokes
If you're like me, then you enjoy pasta in so many different ways. This pasta dish perfectly marries the savory favors or chicken, mushrooms, artichokes, and capers with a rich, creamy sauce that will surely excite your taste buds.
---
Ingredients
1 pounds pasta (penne, rigatoni, or cavatappi as pictured)
1 pound boneless chicken breast, cut into small chunks
3 tablespoons extra virgin olive oil
1 pound mushrooms, sliced
3 garlic cloves, minced
1/2 cup white wine
2 cups chicken broth
1 whole can (14 1/2 oz.) artichoke hearts, drained and rinsed
4 tablespoons capers, rinsed
1 cup heavy cream
3 tablespoons fresh chives, chopped
Freshly grated Parmesan cheese to taste
Salt and black pepper to taste
---
Instructions
Bring a large pot of salted water (approximately 2 tablespoons of salt needed) to a boil. Cook pasta for 8-10 minutes, until al dente, and drain.
Salt and pepper chicken pieces. Heat olive oil in a large skillet over medium-high heat. Add chicken pieces and brown for 3-4 minutes. Remove chicken from skillet and set aside on a plate.
Next, stir in mushrooms and garlic to the pan, and cook for 2-3 minutes. Add wine and cook for an additional 1-2 minutes while it evaporates.
Pour in chicken broth. Stir to deglaze the pan, the add chicken back to pan, followed by the artichoke hearts and capers. Put the lid on the pan and allow to cook over medium-low heat for up to 20-25 minutes.
Remove lid, and stir in heavy cream and chives. Put lid on pan again and cook for an additional 10 minutes to thicken sauce.
Remove from heat, and season with salt and pepper to taste. Pour over cooked pasta in a large serving bowl, then stir in the Parmesan cheese.
Then serve this Pasta with Chicken, Mushrooms and Artichokes recipe and top with more Parmesan cheese!
---
Notes
Enjoy Pasta with Chicken, Mushrooms and Artichokes recipe with a glass of white wine!