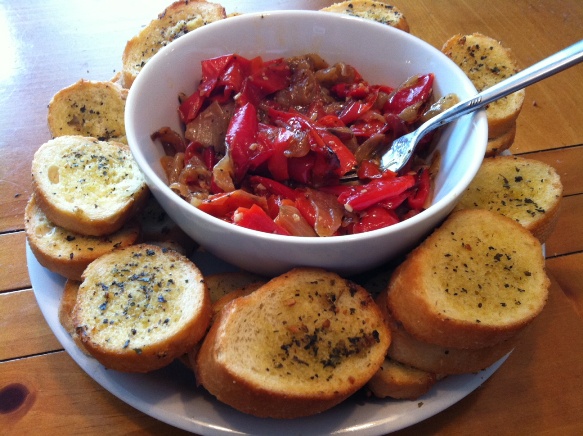 Easy Roasted Red Peppers Recipe
This is a very simple and easy-to-make Roasted Red Peppers recipe, however it packs plenty of flavor.  I like to make my roasted red peppers with sweet onions and garlic.  Try it for yourself!
Ingredients
6 red bell peppers, pitted, seeded and sliced
1 large sweet onion, sliced
4 tablespoons extra virgin olive oil
3 tablespoons minced garlic
Salt and black pepper to taste
Instructions
Preheat oven to 350 degrees F.  Then, coat the bottom of a roasting pan with 1 tablespoon of the olive oil.  Add the sliced red peppers and and sliced onion.  Coat evenly with the additional 3 tablespoons of olive oil.  Add the minced galic, and season with salt and black pepper.  Thoroughly mix the ingredients in the pan.
Next, cook in oven for 20-25 minutes.  Remove from oven and thoroughly mix again.  Then place back in oven for an additional 20-25 minutes, or until cooked through (you'll know it's done when the peppers have softened).
Remove from oven and allow to cool to room temperature.  Serve this Roasted Red Peppers recipe with garlic bread and enjoy!
Notes
You may also choose to take the red peppers prior to slicing and heat them through using tongs over an open flame on the stove.  This will blacken the skin which gives it a slight char flavor.  Then proceed with instructions above to finish recipe.