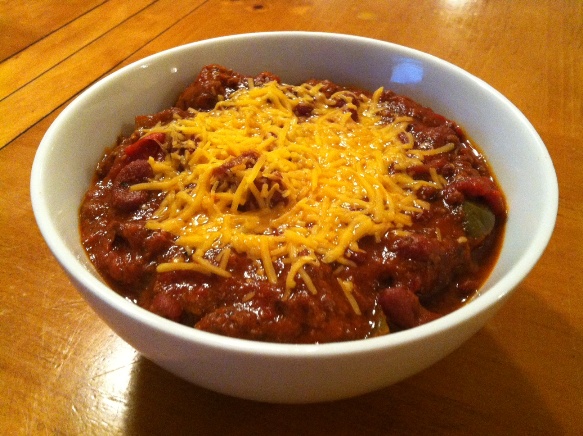 The Best Homemade Chili Recipe
After many attempts, I have finally created The Best Homemade Chili Recipe!  This chili recipe features a combination of ground sirloin, sweet and hot sausage, as well as melt-in-your-mouth filet mignon!  Trust me when I tell you that once you've tried this, it'll be your go-to recipe for chili.
Ingredients
2 pounds ground sirloin
1 pound sweet sausage, sliced
1 pound hot sausage, sliced
1 pound filet mignon, cubed
2 medium sweet onions, diced
3 green bell peppers, diced
3 red bell peppers, diced
4 jalapeno peppers, sliced
6 celery stalks, diced
4 tablespoons canola oil, divided
2 tablespooons butter
6 cloves garlic, minced
2 small cans tomato paste (6 oz cans)
4 cans diced tomatoes (14.5 oz cans)
3 cans red kidney beans, drained and rinsed (15.5 oz cans)
4 tablespoons chili powder
3 tablespoons brown sugar
2 tablespoons Worcestershire sauce
2 tablespoons hot sauce (I prefer Frank's Red Hot Sauce)
2 tablespoons ground cumin
2 tablespoons ground coriander
2 tablespoons paprika
2 tablespoons dried basil
Salt and ground black pepper to taste
Cheddar cheese, shredded
Instructions
Are you ready to make the best homemade chili recipe you've ever tasted?  Here we go…
Preheat 2 tablespoons of canola oil and butter in a large stock pot over low-medium heat.  Add the onion and garlic, and saute and until translucent.  Next, add the peppers and celery and saute until softened.  Season with salt and black pepper.
Next, stir in the tomato paste and diced tomatoes.  Then add the chili powder, brown sugar, Worcestershire sauce, hot sauce, ground cumin, ground coriander, paprika, and dried basil.  Stir all the ingredients thoroughly.
Meanwhile, preheat 2 tablespoons of canola oil in a large skillet over medium-high heat.  First, add the ground sirloin to the skillet, season with salt and black pepper, and cook until browned, approximately 3-4 minutes.  Then remove from pan and set aside.  Do the same process to both the sausage and the filet mignon separately, seasoning with salt and black pepper, cooking until browned, and setting aside afterwards.  NOTE:  I'm an advocate of not over-cooking the meat at this stage.  You want the meat to be lightly browned, and finish cooking in the sauce for a few hours.
Next, add all the meat to the stock pot.  Then add in the red kidney beans and stir thoroughly.  Lower the heat to low, and allow to cook for up to 3-4 hours, stirring occasionally.  Feel free to season with salt and black pepper if needed.
When ready to serve, ladle chili into a bowl and top with shredded cheddar cheese.  Enjoy this Homemade Chili Recipe!
Notes
This homemade chili recipe calls for a large quantity of each ingredients.  In my opinion, when you make chili you have to make it in large quantities for sharing and for leftovers.  However, if you prefer to make this in half the serving size then feel free to cut in half the portion of ingredients!
If you'd like your chili to have a little more heat, add 1-2 tablespoons of cayenne pepper.
Let me know below in the comment section if you think this is the best homemade chili recipe you've ever made!