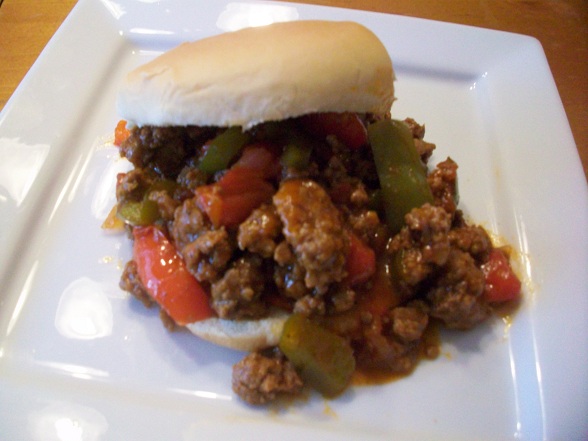 Sloppy Joe Sandwich
Looking for a quick and easy sandwich to make for your family tonight? Then try this delicious homemade recipe of the American favorite Sloppy Joe Sandwich!
Ingredients
1 pound ground beef
1/2 cup green bell pepper, chopped
1/2 cup red bell pepper, chopped
1/2 cup sweet onion, choppped
1 tablespoon olive oil
2 teaspoons minced garlic
3/4 cup ketchup
1 can diced tomatoes, drained
3 tablespoons brown sugar
1 tablespoon red wine vinegar
1 teaspoon prepared yellow mustard
2 teaspoons Worcestershire sauce
2 teaspoons chili powder
Salt and black pepper to taste
Hamburger buns
Instructions
Heat olive oil in large skillet over medium heat. Add onion and cook until translucent.
Add garlic, ground beef, and peppers. Cook until ground beef is browned, and peppers are softened.
Meanwhile, mix together ketchup, diced tomatoes, brown sugar, red wine vinegar, mustard, Worcestershire sauce, chili powder, salt, and black pepper in a bowl.
Once ground beef is browned, drain liquid from pan and stir mixture into skillet. Be sure to mix thoroughly.
Reduce heat, and simmer for up to 3o minutes.
Finally, spoon mixture onto hamburger buns and enjoy the Sloppy Joe Sandwich!
Notes / Suggestions
You may also enjoy these Sloppy Joes on a long hoagie roll.
Total Time (duration): 45 minutes