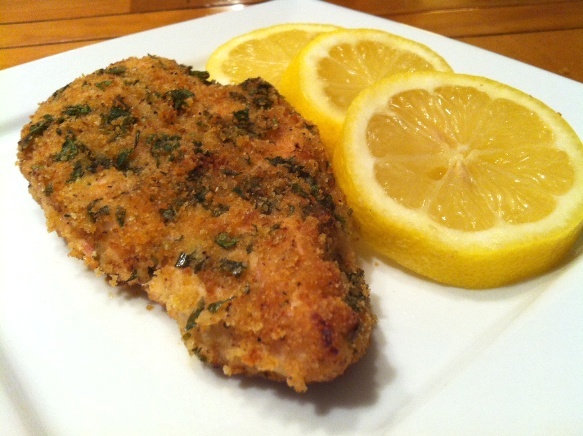 Garlic Herb Crusted Chicken
This baked Garlic Herb Crusted Chicken recipe features flavors of lemon, garlic, and fresh herbs.  This is the perfect family-friendly chicken recipe that is sure to be a new favorite!  Serve with a glass of dry white wine.
Ingredients
4 boneless skinless chicken breasts, halved
6 tablespoons fresh lemon juice (juice of 2 lemons)
2 tablespoons extra virgin olive oil
2 tablespoons butter
1 tablespoon minced garlic
1 1/2 cups breadcrumbs (plain)
6 tablespoons fresh basil, chopped
3 tablespoons fresh parsley, chopped
1 1/2 tablespoons fresh rosemary, chopped
1 1/2 teaspoons garlic powder
1 1/2 teaspoons salt
1/2 teaspoon ground black pepper
Lemon slices for garnish
Instructions
Using a meat tenderizer, pound the chicken breasts to an even ½ inch thickness to ensure even cooking.
Next, we need to marinate the chicken with the lemon juice.  In either a deep glass baking dish or in a large resealable plastic bag, coat the chicken thoroughly with the lemon juice.  Place in refrigerator and allow to marinate for up to 1 hour.
When ready, remove chicken from baking dish or resealable plastic bag and pat dry with paper towels.
Preheat oven to 400 degrees F.
Meanwhile, in a large saute pan, melt the olive oil and butter over medium heat.  Add garlic and cook for 1-2 minutes, or until garlic starts to turn golden in color.  Remove from heat and allow to cool slightly.
In a separate plate, mix together the breadcrumbs, basil, parsley, rosemary, garlic powder, salt, and black pepper.
Brush both sides of the chicken breast with melted butter mixture.  Then coat chicken on both sides with the herb breadcrumb mixture.
Arrange the chicken on a baking dish (already coated with cooking spray to prevent sticking).  Place in preheated oven and bake uncovered until chicken is cooked through and breadcrumbs are golden brown, approximately 25-30 minutes.
Remove from oven. Place chicken on serving dish garnished with lemon slices or wedges and enjoy this baked Garlic Herb Crusted Chicken recipe!
Notes
I recommend serving this Garlic Herb Crusted Chicken recipe alongside my Spinach Parmesan Orzo Pasta recipe or Pasta Aglio e Olio (garlic and oil) recipe!