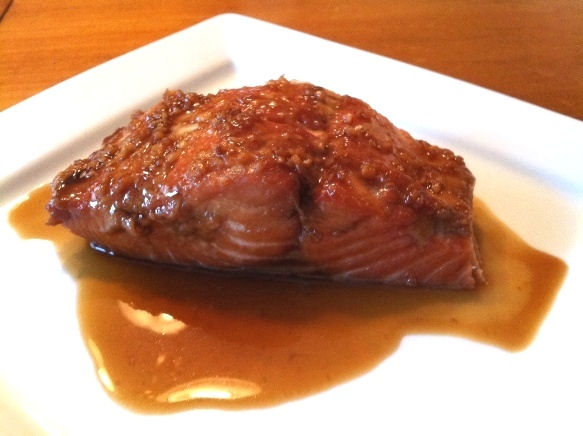 Sweet Asian Baked Salmon
The preparation for this Sweet Asian Baked Salmon recipe is very easy, yet the flavor is incredible!  This salmon recipe is sure to be a family favorite.
Ingredients
1 pound salmon filet with skin
1/4 cup soy sauce
2 tablespoon brown sugar
1 tablespoon honey
2 teaspoons minced ginger root
2 teaspoons minced garlic
Instructions
Wash, dry, and debone the salmon filet. Pull out a sheet of aluminum foil that will be long enough to cover and create a tent for the salmon piece, and place foil in a roasting pan. Then, place salmon on the middle of foil sheet, bring up the sides so that it makes a pocket.
Cut slits in salmon horizontally, against the grain.
Meanwhile, in a separate bowl, mix together the soy sauce, brown sugar, honey, ginger, and minced garlic. Then, pour mixture over the salmon, making sure to coat it evenly. Allow salmon to marinate for 30-60 minutes in the refrigerator prior to cooking.
When ready to cook, create a tent with the foil over the salmon and seal shut the top. This will keep the moisture inside while cooking so the fish will stay moist.
Bake in preheated oven at 400 degrees F for up to 30 minutes. As soon as the fish is flaking easily and is not raw on the insides, take the fish out. The skin of the salmon should easily peel off prior to serving.
Enjoy this Sweet Asian Baked Salmon recipe!
Notes
Serve this Sweet Asian Baked Salmon recipe alongside white rice.