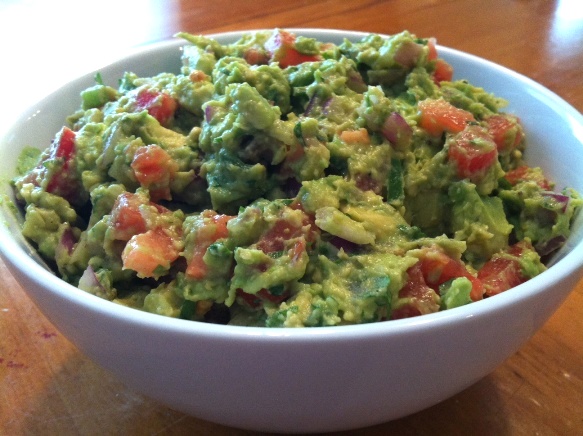 Homemade Guacamole Recipe
This is a quick and easy recipe to make delicious and healthy Homemade Guacamole!  This homemade guacamole recipe can be enjoyed served as a dip or in your favorite taco recipe.
Ingredients
3 ripe avocados, halved, seeded and peeled
1 lime, juiced
1/2 teaspoon salt
1/2 teaspoon black pepper
1/2 teaspoon ground cumin
1 or 2 serrano chiles, stems and seeds removed, minced
1/2 medium red onion, chopped
2 Roma tomatoes, diced
2 tablespoons fresh cilantro, chopped
1 clove garlic, minced
Instructions
Add the avocados to a large bowl.  Coat with lime juice and sprinkle with salt, black pepper, and cumin.  Using a potato masher or fork, mash the avocado mixture.  Be sure to leave it a bit chunky.
Next, add the serrano chiles, red onion, tomatoes, cilantro, and garlic.  Gently mix together.
Lay a piece of plastic wrap on the surface of the guacamole and refrigerate for up to an hour prior to serving.  Then enjoy this Homemade Guacamole Recipe!
Notes
The choice between using either one or two serrano chiles is dependent on how hot you would like the Homemade Guacamole Recipe to be.  Try it with one, as you can always add an additional one for more heat if desired.