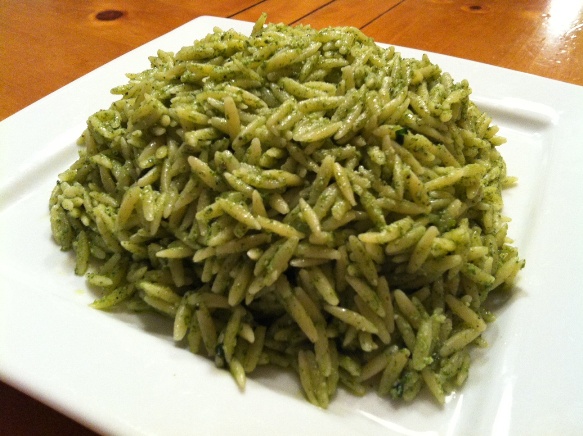 Spinach Parmesan Orzo Pasta
Need a simple, yet flavorful pasta side dish to go with your main course?  If so, try this delicious Spinach Parmesan Orzo Pasta recipe and you'll be sure to add it to your repertoire of side dish recipes!  This orzo pasta recipe is very easy to make and features flavors of fresh spinach, garlic, and Parmesan cheese.
Ingredients
1 pound orzo pasta

1/3 cup (plus 3 separate tablespoons) extra virgin olive oil

4 garlic cloves, minced
2 cups baby spinach, stemmed and chopped
1/2 cup grated Parmesan cheese
Salt and black pepper to taste
What you'll need:
Instructions
Bring a large pot of salted water (approximately 1 tablespoon of salt needed) to a boil. Cook pasta for 8-10 minutes, until al dente, and drain.
Meanwhile, in a large saute pan, heat 1/3 cup of olive oil over medium heat.  Add garlic and cook for 1-2 minutes, or until garlic starts to turn golden in color.  Add the chopped spinach and season with salt and black pepper.  Cover and allow to cook 3-4 minutes, stirring occasionally.  Then, add spinach mixture into blender and puree until smooth.  Set aside.
With the same large saute pan used to cook the spinach mixture, heat the additional 3 tablespoons of olive oil over medium heat.  Add cooked orzo pasta to saute pan and toss. Then, thoroughly stir in spinach mixture and allow to cook for up to 1-2 minutes.  Remove from heat and toss orzo pasta with grated Parmesan cheese.  Serve immediately.
Enjoy this Spinach Parmesan Orzo Pasta Recipe!
Notes
This Spinach Parmesan Orzo Pasta recipe is great as a side dish to many main course recipes such as my Garlic Herb Crusted Chicken, Chicken Marsala Recipe, Chicken with Sage Butter Sauce, Garlic Herb Chicken with Capers, and more!