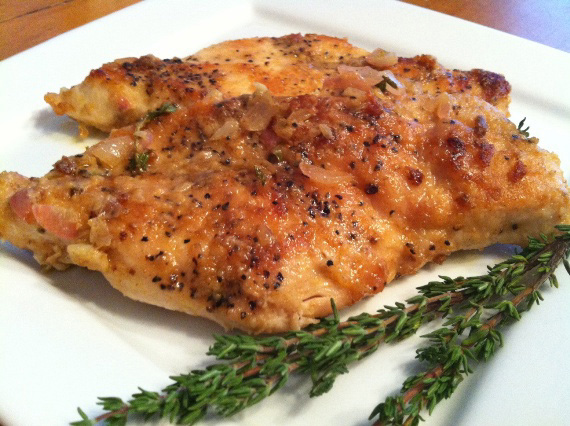 Chicken with Sage Butter Sauce
Bursting with fresh flavor! Enjoy this simple Chicken with Sage Butter Sauce recipe with a fine glass of white wine.
Ingredients
1 pound skinless boneless chicken breast, thin sliced
2 tablespoons vegetable oil
1/2 cup all-purpose flour
3 tablespoons butter
2 sage sprigs
2 shallots, minced
2 teaspoons fresh thyme, chopped
1 1/2 tablespoons fresh lemon juice
Salt and black pepper to taste
Instructions
Preheat large skillet over medium-high heat. Add vegetable oil.
Meanwhile, sprinkle salt and black pepper on both sides of chicken. Then dredge chicken in flour.
Add chicken to pre-heated pan and saute on both sides until lightly browned (approximately 4 minutes on each side). Remove chicken from pan and set aside.
Next, add butter and sage sprigs to pan. Cook for 2-4 minutes until butter browns. Discard sage.
Add minced shallots, thyme and lemon juice. Cook for an additonal 2 minutes.
Finally, place chicken back in pan and coat in the sauce.  Then serve on a dish and enjoy this Chicken wth Sage Butter Sauce recipe!
You may also serve the Chicken with Sage Butter Sauce recipe with a fresh sage garnish.
Total time: 30 minute(s)