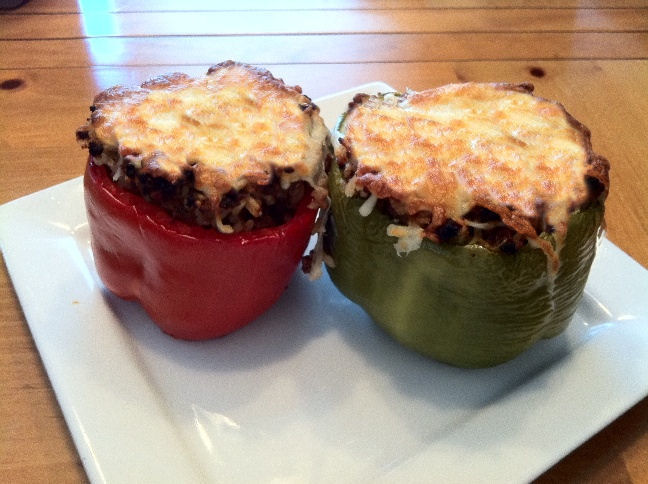 Stuffed Peppers Recipe
Try this delicious Italian flavored beef and rice stuffed peppers recipe. It's very easy to make and sure to be a family favorite!
Ingredients
1 pounds ground beef
1 tablespoon olive oil
1/2 cups cooked instant white rice
4-6 bell peppers (green or assorted)
1/2 medium sweet onion, chopped
2 cloves garlic, minced
1 tablespoon Worcestershire sauce
salt and black pepper to taste
1 (16 oz) can tomato sauce
1 cup shredded mozzarella
Instructions
Preheat oven to 350 degrees F.
Heat olive oil on medium heat. Add chopped onion and cook until translucent. Then add minced garlic and cook for 30 seconds.
Next, add ground beef. Season with salt and pepper. Cook beef until browned.
After beef has been browned, add tomato sauce and Worcestershire sauce. Cook for an addional 2-4 minutes.
Meanwhile, remove and discard tops of peppers. Then cut out inside seeds and membranes and discard. Place on cooking sheet sitting up.
After beef has finished cooking, combine with cooked rice in a large bowl and mix thoroughly. Spoon the beef and rice mixture into each pepper until it nearly spills over.
Bake for 50 minutes hour in preheated oven. Then, top stuffed pepper with shredded mozzarella and continue to bake for an additonal 10 minutes (totalling 1 hour of baking).
Afterwards, remove from oven and enjoy these delicious Stuffed Peppers!
Total time: 1 hour(s) 30 minute(s)
Notes / Suggestions
These Stuffed Peppers go great alongside a glass of red wine.