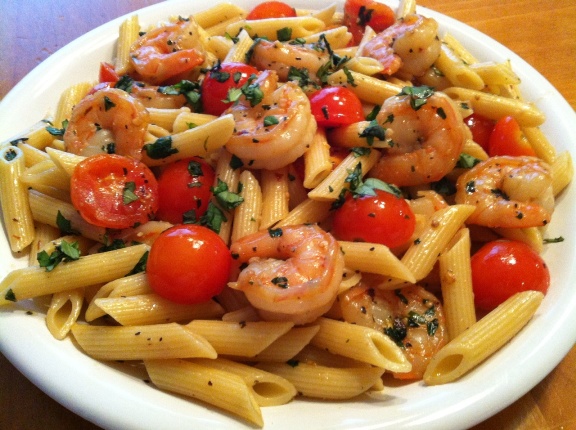 Garlic Shrimp Pasta with Tomatoes
This is a simple seafood pasta dish with incredible flavor. This Garlic Shrimp Pasta with Tomatoes recipe is perfect for pasta and seafood lovers!
Ingredients
1 pound pasta (penne, spaghetti, linguine, etc.)
1 pound large shrimp, peeled and deveined
Extra virgin olive oil, enough to coat the bottom of a large skillet
2 tablespoons butter
2 garlic cloves, minced
1 teaspoon crushed red pepper flakes
1 pint cherry tomatoes, halved
2 tablespoons fresh basil, chopped
Salt and black pepper to taste
Instructions
Bring a large pot of lightly salted water to a boil. Cook pasta for 8-10 minutes, until al dente, and drain.
Meanwhile, coat bottom of large skillet with olive oil, and heat at medium-high. Add butter and allow to melt. Then add minced garlic and cook until lightly browned.
Next, add shrimp to pan and cook until meat turns opaque, approximately 4-5 minutes.  Season with red pepper flakes, salt, and black pepper.
Once shrimp is cooked, reduce heat to low-medium and add tomatoes. Cover and allow to cook for an additional 3-4 minutes, or until tomatoes begin to soften and juices release.
Remove from heat. Add cooked pasta to skillet and lightly toss until thoroughly mixed. Sprinkle fresh basil and then serve this delicious Garlic Shrimp Pasta with Tomatoes recipe!
Notes
This Garlic Shrimp Pasta with Tomatoes recipe goes great with Garlic Bread and a glass of either red or white wine. Enjoy!