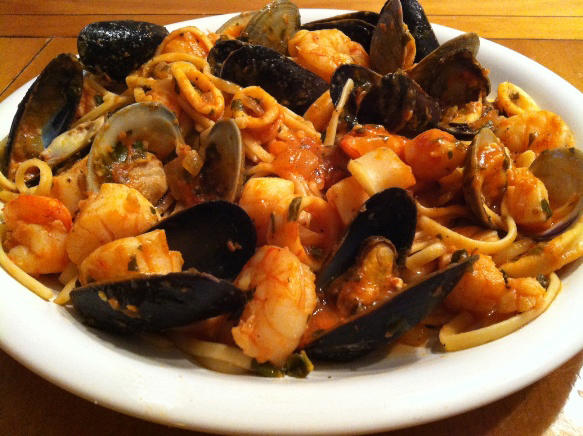 Linguine Pescatore Recipe
If you love seafood and pasta as much as I do, then this delicious Linguine Pescatore Recipe will be right up your alley.  This seafood pasta pescatore recipe features linguine in a tomato based sauce with shrimp, scallops, mussels, clams, and calamari!
---
Ingredients
1 pound linguine pasta
16 large shrimp, peeled and deveined
16 large scallops
24 mussels, washed and debearded
16 littleneck clams, scrubbed
1/2 pound fresh calamari (squid rings)
2 tablespoons extra virgin olive oil
1/3 cup sweet onion, chopped
1/4 cup scallions, chopped
4 anchovy fillets in oil, drained and finely chopped
4 garlic cloves, minced
1 can crushed tomatoes (28 oz)
1/2 cup dry white wine
2 tablesooons butter
2 tablespoons fresh basil, chopped
2 tablespoons fresh parsley, chopped
1 tablespoon fresh oregano, chopped
1/2 teaspoon crushed red pepper flakes
Salt and ground black pepper to taste
---
Instructions
First, let's make the sauce.  Heat the olive oil in a large saucepan over medium heat.  Add the onion and cook until translucent, approximately 3-4 minutes.  Then, add the anchovies, garlic, and scallions.  Cook until garlic is lightly browned, approximately 1 minute.
Next, stir in the crushed tomatoes, white wine, butter, basil, parsley, oregano, and red pepper flakes.  Season with salt and black pepper.  Reduce heat to medium-low and simmer, stirring occasionally, until sauce has thickened and reduced slightly, approximately 25-30 minutes.
Bring a large pot of salted water to a boil. Cook pasta for 8-10 minutes, until al dente, and drain.
When the sauce has thickened, increase heat to medium-high.  Add the shrimp, scallops, mussels, and clams.  Cook  for approximately 3-4 minutes.  Then, add the calamari.  Cook covered until mussels and clams have opened, and the shrimp and scallops are firm and opaque, approximately 3-4 minutes more.  Remove from heat.
Try to time the sauce and seafood being done at the same time as the pasta.  Add the pasta into the large saucepan and mix well.  Season with salt and black pepper if needed.
Then serve this delicious Linguine Pescatore Recipe!
---
Notes
This Linguine Pescatore recipe goes great alongside a glass of dry white wine.  I always recommend cooking with wine you would drink, therefore I suggest serving this seafood pasta pescatore recipe with the white wine used in the sauce.