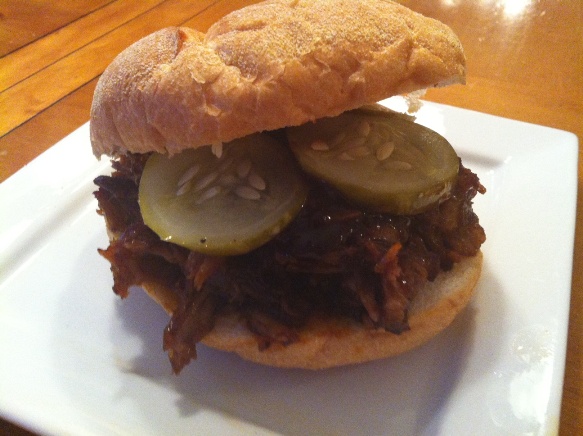 Slow-Roasted Pulled Pork Sandwiches
Do you want authentic Southern Style pulled pork sandwiches, but don't have a smoker to cook it in?  Don't worry!  Try this amazing Slow-Roasted Pulled Pork Sandwiches recipe using only your oven and you'll be more than happy with the results!  This recipe also includes my Homemade Sweet Bourbon Barbecue Sauce.
Ingredients
5-7 pound pork roast, shoulder or pork butt
1 teaspoon liquid smoke mixed with water for bottom of pan (optional)
Deli pickle slices or hot peppers for topping
8-10 round rolls
Pork Rub
3 tablespoons salt
3 tablespoons paprika
1 tablespoon dark brown sugar
1 tablespoon garlic powder
1 tablespoon onion powder
1 tablespoon chili powder
1 tablespoon ground dry mustard
1 tablespoon ground cumin
1 tablespoon ground coriander
1 tablespoon black pepper
1 tablespoon cayenne pepper (optional)
Note:  Do you have a meat injector?  If so, see the notes below for an optional Pork Injection Marinade recipe!  
Barbecue Sauce (Homemade Sweet Bourbon Barbecue Sauce)
1/2 sweet onion, chopped
2 garlic cloves, minced
1/2 cup bourbon whiskey
1 cup dark brown sugar
1/2 cup ketchup
1/4 cup soy sauce
1/4 cup Worcestershire sauce
2 tablespoons hot chile sauce
1 tablespoon chili powder
2 teaspoons ground dry mustard
1/2 teaspoon ground black pepper
Instructions
Preheat oven to 300 degrees F.  Add the liquid smoke mixed with a few tablespoons of water to the bottom of a large roasting pan with a rack insert.  This is optional for a smoky flavor infused into the pork while cooking.  Set aside.
Meanwhile, mix together all the ingredients for the pork rub.  Generously coat the entire pork with the rub, ensuring that the entire pork is covered.
Note:  If you intend on injecting a marinade into meat with instructions below, you will need to do so prior to applying dry rub.
Place pork on rack in roasting pan and cover completely with aluminum foil.  Place in oven and allow to cook up to 6 hours, or until internal temperature reads 170 degrees F.
* While pork is cooking, now you may make the sweet bourbon barbecue sauce *
In a large skillet over medium heat, combine onion, garlic, and bourbon whiskey.  Simmer for 10 minutes.
Next, mix in the brown sugar, ketchup, soy sauce, Worcestershire sauce, chile sauce, chili powder, dry mustard, and black pepper.  Simmer for 30 minutes, stirring occasionally.  Afterwards, allow to cool to room temperature and refrigerate until ready to use.
When pork is finished cooking, remove from oven and allow to rest up to 15-20 minutes.  Then, using two forks start to pull apart the meat onto a serving dish.  The meat should pull apart very easily!  To assemble the sandwich, first add a nice size helping of pulled pork, then top with barbecue sauce and pickles or hot peppers.  Enjoy this delicious Slow-Roasted Pulled Pork Sandwiches recipe!
Notes
The option of liquid smoke in the Slow-Roasted Pulled Pork Sandwiches recipe is to help infuse a smoky flavor into the meat, being that this recipe doesn't call for a true smoker.  Also, you may opt to not use the cayenne pepper in the pork rub if you prefer a less spicy version.
(Optional) Pork Injection Marinade Recipe:
Ingredients
3/4 cup apple juice or cider

1/2 cup water
1/2 cup granulated white sugar
1/4 cup salt
2 tablespoons Worcestershire sauce
1 tablespoon of reserve pork dry rub (recipe above)
1/2 teaspoon liquid smoke
Instructions
Prior to coating your meat with the dry rub, you will want to inject it with the marinade.
Combine all ingredients in a small saucepan over medium heat.  Allow to cook for 2-4 minutes, stirring continuously.  Remove from heat and set aside to cool to room temperature.
Using your meat injector, inject the marinade throughout the meat in several spots.  You will notice that the meat will slightly expand in size.  Next, follow instructions above as described starting with coating the meat with the dry rub.  Enjoy!