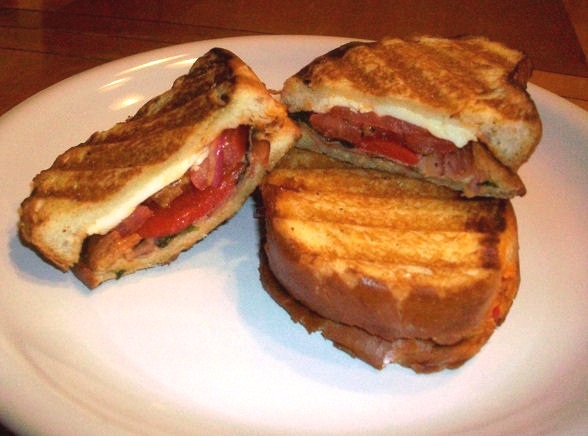 Italian Panini with Prosciutto
This Italian Panini with Prosciutto recipe is my version of the very popular grilled panini sandwich.  It's loaded with fresh flavors, yet very quick and easy to make. Enjoy this delicious panini recipe with a glass of crisp white wine.
Ingredients
1 loaf Italian bread, sliced thick
8 slices prosciutto
8 slices fresh mozzarella cheese
1 large tomato, sliced thin
1/2 cup roasted red peppers
1/2 cup fresh basil leaves
1 medium red onion, sliced
Freshly cracked black pepper
Olive oil
What you'll need:
Instructions
Layer two slices of fresh mozzarella cheese, two slices of tomato, roasted red peppers, onion, basil leaves, and two slices of prosciutto on each of the bottom halves of the bread. Then sprinkle black pepper and close with top slices of roll.
Brush outer surfaces of paninis with olive oil.
Place the panin onto a pre-heated panini grill. Grill for 2-4 minutes until the bread is golden brown and the cheese is melted.
Remove the panini from the grill. Slice the sandwich in half and enjoy this tasty Italian Panini with Prosciutto.
Notes / Suggestions
Make this delicious Italian Panini with Prosciutto recipe without a panini maker by using a grill pan or skillet. Also, using a grill press or smaller skillet to press down on the panini while it's grilling will ensure the bread turns golden brown and the mozzarella cheese melts properly. Be sure to cook both sides evenly.
Total Time (duration): 25 minutes
Number of Servings: 4