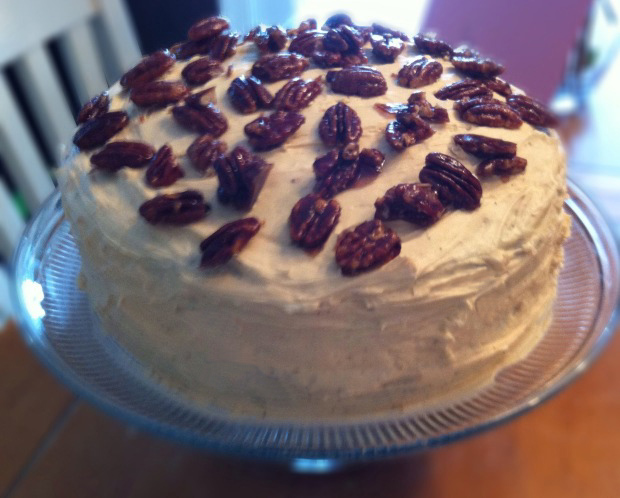 Homemade Chocolate Cake with Salted Caramel Frosting and Candied Pecans
This Homemade Chocolate Cake with Salted Caramel Frosting and Candied Pecans recipe is made completely from scratch! There are no pre-packaged, pre-made ingredients in this cake recipe. So, if you're looking to really impress, this cake recipe will surely do the trick!
---
Ingredients
For the Chocolate Cake:
2 cups granulated white sugar
1 3/4 cups all-purpose flour
3/4 cup unsweetened cocoa powder
1 1/2 teaspoons baking soda
1 1/2 teaspoons baking powder
1 teaspoon salt
2 large eggs
1 cup whole milk
1/2 cup vegetable oil
2 teaspoons vanilla extract
1 cup boiling water
1/2 cup semi-sweet chocolate chips (optional)
For the Salted Caramel Frosting:
1/4 cup granulated white sugar
2 tablespoons water
1/4 cup heavy cream
1 teaspoon vanilla extract
12 tablespoons unsalted butter ( 1 1/2 sticks), at room temperature
1/2 teaspoon salt
1 cup powdered sugar
For the Candied Pecans:
2 1/2 cups pecans
2 tablespoons butter, softened and divided
1 cup granulated white sugar
1/2 cup water
1/2 teaspoon salt
1/2 teaspoon ground cinnamon
1 teaspoon vanilla extract
What you'll need:
Two 9 inch cake pans (or two 9 inch springform pans)
Electric mixer or hand mixer
Cooking Spray
Wax Paper
Cake Stand
Spatula
---
Instructions
First, let's start with making the Homemade Chocolate Cake recipe…
Preheat the oven to 350 degrees F. Grease (with cooking spray) and flour two 9 inch cake pans.
In the bowl of your electric mixer (or in a separate large bowl if using a hand mixer), whisk together the sugar, flour, cocoa, baking soda, baking powder, and salt. Then, add the eggs, milk, vegetable oil, and vanilla extract. Mix together with electric mixer for 3 minutes.
Next, stir in the boiling water by hand and mix well. Pour the cake mixture evenly into the greased pans.
Bake in the oven for 30-35 minutes, until a toothpick inserted in the center comes out clean. Remove from oven.
Allow the cake to cool for 10 minutes.  Run a knife around the edge of the pan to loosen cake, then turn over to remove cake onto a separate surface to cool completely to room temperature.
Meanwhile, let's make the Salted Caramel Frosting recipe…
In a small sauce pan over medium-high heat, briefly stir in the granulated white sugar and water. Continue cooking, without stirring, until mixture turns a dark amber in color, approximately 6-7 minutes.
Remove from heat and slowly add in the heavy cream and vanilla extract. Stir thoroughly with a wooden spoon until the mixture is completely smooth. Set mixture aside until cool to the touch, approximately 25-30 minutes.
Next, combine the butter and salt in a bowl of our electric mixer, and beat on medium-high speed until light in color and fluffy, approximately 3-4 minutes. Reduce speed to low. Add powdered sugar and mix until completely incorporated. Be sure to scrape down the sides of the bowl.
Then, add caramel mixture and beat on medium-high speed for an additional 2-3 minutes, or until frosting becomes thoroughly mixed and airy. Cover frosting and refrigerate until stiffened before using, approximately 45 minutes.
Next, let's make the Candied Pecans recipe…
Preheat oven to 250 degrees F. Place pecans on a shallow baking pan and heat in oven for 10 minutes, or until warmed. Grease a separate baking pan with 1 tablespoon butter, and set aside.
Meanwhile, grease the sides of a saucepan with the remaining butter over medium low heat. Add the sugar, water, salt, and cinnamon. Cook and stir until sugar is dissolved. Increase heat to medium, and cook mixture until it reaches a boil. Cover and cook an additional 2 minutes to dissolve the sugar crystals.
Remove mixture from heat and add the vanilla extract. Stir in the warm pecans, ensuring to coat them evenly.
Spread the coated pecans onto the greased baking pan. Bake in the oven at 250 degrees F for 25-30 minutes, stirring occasionally. Remove from oven and spoon the pecans on a waxed-paper lined baking sheet to cool.
Finally, let's assemble the Cake…
Place the first cake layer on a cake stand. With a spatula, spread frosting on the top of that that first cake layer, followed by topping with some of the candied pecans.  Then place the second cake layer on top of it. Spread the frosting generously on the top of the second cake layer first, then evenly along the sides of the entire cake. Top the cake with the remaining candied pecans.
Enjoy this Homemade Chocolate Cake with Salted Caramel Frosting and Candied Pecans recipe!
---
Notes
Make sure that you allow the cake to cool completely before icing to prevent the icing from melting.