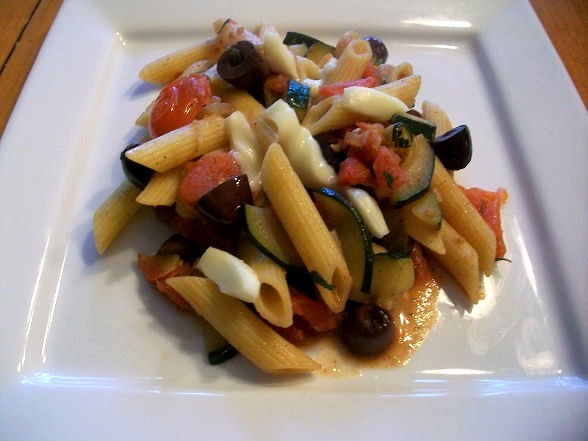 Pasta with Zucchini, Tomatoes, and Olives
Italy meets Greece in this flavorful and colorful pasta dish. This pasta recipe combines tomatoes and zucchini with Greek olives, and is topped with fresh mozzarella cheese. As complex as it may seem, this recipe is actually quite simple to make. Enjoy with a glass of white wine.
Ingredients
1 pound penne pasta
3 tablespoons olive oil
4 anchovy filets, rinsed and minced
3 cloves garlic, minced
1/2 medium sweet onion, chopped
2 medium zucchini, halved lengthwise and sliced
1 (14 oz) can of diced tomatoes
1 cup grape tomatoes, halved
1 cup Kalamata olives, pitted and halved
1/4 cup fresh basil, chopped
1/3 cup mozzarella cheese, sliced
Salt and freshly cracked black pepper to taste
Instructions
Bring a large pot of lightly salted water to a boil. Cook pasta for 8-10 minutes, until al dente, and drain.
Meanwhile, in a large skillet, heat olive oil on medium heat. Add minced anchovy filets, garlic, and onion. Cook until onions are translucent, approximately 2 minutes.
Then, add sliced zucchini and cook until cooked through and softened, approximately 2-4 minutes.
Next, add can of diced tomatoes, grape tomatoes, olives, salt, and black pepper. Allow to cook for up to 5 minutes, while occasionally stirring.
Remove from heat, then add penne pasta and fresh basil into skillet and thoroughly stir until all ingredients are mixed together.
Spoon pasta onto a serving dish and top with slices of fresh mozzarella cheese, allowing the cheese to melt from the heat of the pasta. Enjoy this Pasta with Zucchini, Tomatoes, and Olives recipe!
Notes / Suggestions
Feel free to substitute anchovy filets with 2 teaspoons of anchovy paste.
Total Time (duration): 25 – 30 minutes
Number of Servings: 4-6