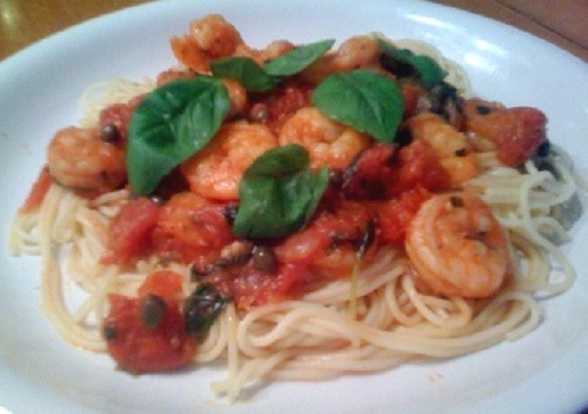 Spaghetti with Shrimp and Capers
This pasta recipe is an instant favorite!  Enjoy this Spaghetti with Shrimp and Capers recipe with a glass of the fine white wine used to cook the recipe.
Ingredients
1 pound of thin spaghetti
1 1/2 pounds of large shrimp, peeled and deveined
4 tablespoons of capers, well rinsed
3 cans of 14.5 oz diced tomatoes, drained
1/2 cup of fine quality olive oil
1/3 cup of white wine
1/2 cup of onion, chopped
2 teaspoons of garlic, minced
1/2 cup of fresh basil leaves, torn
2 tablespoons of fresh Italian parsley, chopped
1 teaspoon of dried red pepper flakes
salt and black pepper to taste
Directions
Bring a large pot of lightly salted water to boil. Cook spaghetti in pot as instructed on box.
Meanwhile, in a large skillet sauté oil, onion, and garlic on medium-low heat until onion is translucent.
Add shrimp to skillet and cook until meat turns opaque, approximately 4-5 minutes. Season with salt a black pepper.
Then, raise heat to high and add white wine. Bring to boil.
Stir diced tomatoes, capers, and red pepper flakes. Reduce heat to medium-low and simmer for about 10-12 minutes. Taste and season as you see fit with salt and black pepper.
Before serving, add fresh basil and parsley.
Remove skillet from heat. Stir in spaghetti and serve the

Spaghetti with Shimp and Capers

.