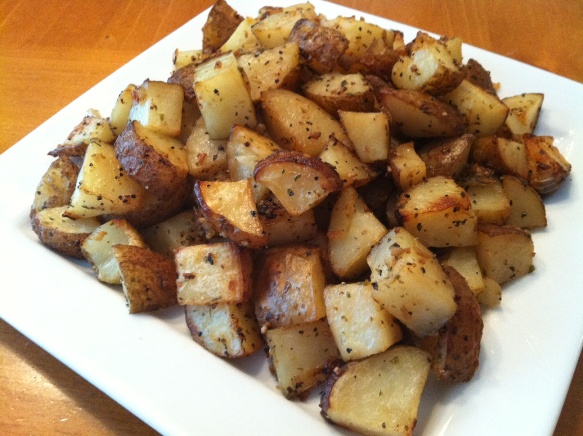 Roasted Garlic Potatoes
This is a simple, easy-to-make Roasted Garlic Potatoes recipe that goes great alongside any beef, poultry, or fish dish.
Ingredients
3 pounds small red or white potatoes
1 medium onion, chopped
1/4 cup olive oil
2 teaspoons salt
1 1/2 teaspoons freshly ground black pepper
2 tablespoons minced garlic
2 tablespoons dried parsley
Instructions
Preheat oven to 350 degrees F.
Cut the potatoes into quarters or small cubes, and place in a large bowl.
Add the olive oil, salt, black pepper, minced garlic, onion, and parsley. Mix thoroughly with the potatoes.
Spread the potatoes evenly onto a sheet pan. Place in oven and roast for 45-60 minutes, or until browned. Turn the potatoes 2-3 times with tongs during cooking to ensure even browning.
Then serve and enjoy these delicious

 Roasted Garlic Potatoes

!
You may also add fresh rosemary to this Roasted Garlic Potatoes recipe.
Total time: 60 minutes