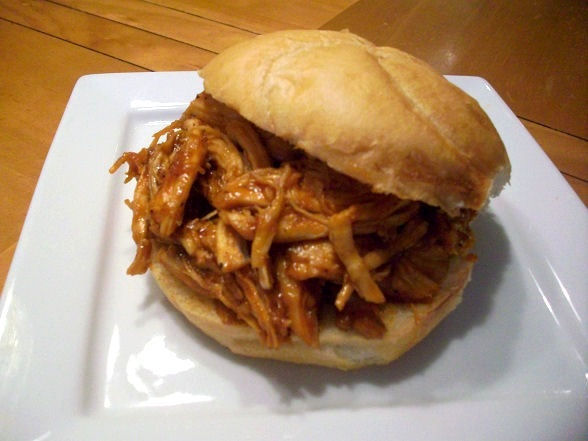 Pulled Barbecue Chicken Sandwich
Looking for a quick and easy sandwich recipe to serve for dinner? Then look no further! This flavorful Pulled Barbecue Chicken Sandwich is sure to be a new family favorite.
Ingredients
4 skinless, boneless chicken breasts
1 small sweet onion, chopped
2 cloves garlic, minced
1/4 cup of water
1 cup barbecue sauce
1/3 cup apple cider vinegar
2 tablespoons dark brown sugar
2 teaspoons hot pepper sauce
1 teaspoon ground ginger
Salt and black pepper to taste
6 kaiser rolls
Instructions
Preheat large skillet on medium high heat. Add water, onion, and garlic. Allow to cook for 1-2 minutes. Then season chicken with salt and black pepper, and place chicken in the skillet. Allow to cook for up to 12 minutes, turning chicken halfway through.
Meanwhile, combine and mix together the barbecue sauce, apple cider vinegar, hot sauce, brown sugar, and ground ginger in a large bowl. Then pour mixture into skillet, mixing all contents. Allow chicken and mixture to cook through for another 8-10 minutes.
Afterwards, lower the heat to low. Remove each individual chicken breast from sauce and shred with two forks. Add shredded chicken back to skillet and thoroughly mix. Allow to cook for up to 2 more minutes, then spoon the Pulled Barbecue Chicken onto the rolls and serve.
Notes / Suggestions
Enjoy this Pulled Barbecue Chicken Sandwich recipe alongside a heaping pile of french fries or potato chips. You may also substitute the chicken with pork.
Total Time (duration): 30-35 minutes
Number of Servings: 4-6