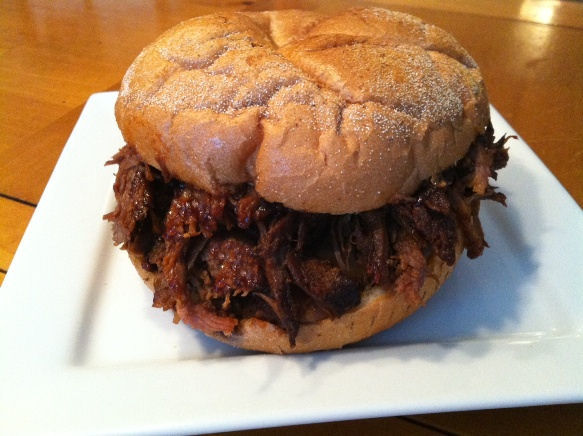 Barbecue Beef Brisket Sandwiches
This is one amazing beef brisket recipe! Your family is sure to love these Slow-Roasted Barbecue Beef Brisket Sandwiches.
Ingredients
1 (5 to 6 pound) beef brisket
2 tablespoons olive oil
1 cup beef broth
8 to 10 kaiser buns
Dry Rub
3 tablespoons paprika
3 tablespoons salt
1 tablespoons black pepper
1 tablespoons brown sugar
1 tablespoons garlic powder
1 tablespoon onion powder
1 tablespoon chili powder
1 tablespoon dry mustard
1 tablespoon ground cumin
1 tablespoon ground coriander
1 tablespoon cayenne pepper (optional)
Barbecue Sauce
2 cups ketchup
1/4 cup corn syrup
1/2 cup sweet onion, chopped
1/4 cup dry red wine
1/2 cup dark brown sugar
1 tablespoon Dijon mustard
1 tablespoon Worcestershire sauce
1 tablespoon lemon juice
1 tablespoon minced garlic
1 tablespoon minced jalapenos
2 teaspoons hot sauce
1 teaspoon salt
1 teaspoon cayenne pepper
Instructions
Preheat oven to 300 degrees F.
Combine all the ingredients for the barbecue sauce in a large bowl and mix thoroughly, then set aside.
Meanwhile, mix together all ingredients for dry rub in a bowl. Season the brisket thoroughly on both sides with the dry rub. Heat the olive oil in a large roasting pan over medium heat on the stove. Add the brisket to the pan and sear, turning once, until evenly browned on both sides (approximately 3 minutes on each side). Then, remove the roasting pan from heat.
Whisk together the barbecue sauce with the beef broth in a large bowl. Pour the mixture over the brisket, ensuring to coat the entire brisket, and cover pan tightly with aluminum foil. Place in oven and roast for 2 ½ hours.
After the first 2 ½ hours, remove from oven and turn the meat over. Spoon the pan drippings over the brisket, and then cover again. Place back in oven and continue cooking for an additional 2 ½ hours, or until very tender.
Remove from oven. Let stand for 20-30 minutes before carving. Either slice the meat across the grain, or pull the brisket apart into pieces using two forks.
Add the brisket onto the kaiser rolls, and ladle juices from pan on top of brisket.
Enjoy this delicious Barbecue Beef Brisket Sandwich recipe!
Feel free to add toppings to these Barbecue Beef Brisket Sandwiches such as hot peppers, lettuce, pickles, etc.
Total time:  5-6 hours