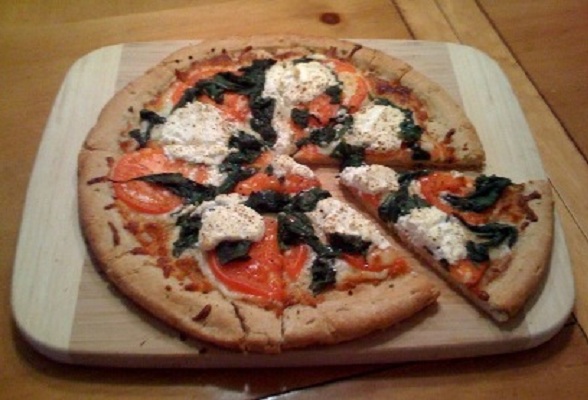 Mediterranean Style Pizza
Treat your family to this quick and simple Mediterranean Style Pizza, which is soon to be one of your new weekday favorites!
Ingredients
1 pizza crust (12 inch)
1 small tomato, thinly sliced
2 cups of fresh baby spinach, cooked
1 cup shredded mozzarella cheese
4 tablespoons of ricotta cheese
1 clove of garlic, minced
1 tablespoon of olive oil
1 teaspoon of rosemary, fresh or dry
salt and pepper to taste
Instructions
Preheat oven to 450 degrees F.
Rinse off baby spinach.  Place in heated pan over stove and cook until wilted, yet still bright green.  Add a dash of salt and black pepper to season.  Remove from heat and set aside.
Next, mix olive oil, minced garlic, rosemary, and black pepper in small bowl.  Place mixture in microwave and heat for 30-45 seconds.
Place pizza crust on baking pan.  Brush entire pizza crust surface with oil mixture.
Top with mozzarella cheese, followed by the slices of tomato and baby spinach.  Then, top with spoonfuls of ricotta cheese.  Add black pepper to taste.
Place baking pan in oven and bake for 10-15 minutes, or until cheese is melted and crust is golden brown.
Remove from oven and let stand a few minutes.
Then serve this delicious

Mediterranean Style Pizza recipe

.