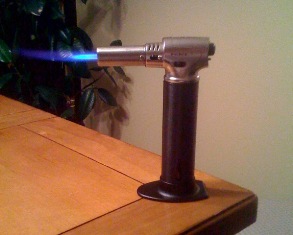 I would like to share with you my new favorite cooking tool…the
BonJour Pro Torch with Fuel Gauge.
I was out to dinner one night with my girlfriend and ordered one of my all-time favorite desserts, Crème Brulee. As I was eating the dessert, I thought to myself how I would love to be able to make this on my own. I knew that the key to the Crème Brulee recipe was the final stage when you torch a top coat of sugar to create that crispy, candy-like surface (which is my favorite part).
So when I got home, I immediately went to the computer to shop online, as I so often do, for a culinary-style torch. I had no idea there were so many torch options, ranging from small kitchen hand-held sizes, to larger commercial sizes. After much research, I zeroed in on the BonJour Pro Torch.
I anxiously awaited the arrival of my new torch, and in the meantime stocked up on the necessary ingredients to make the Crème Brulee. When I finally received it, I was very surprised with the quality of the torch after I unboxed it. For the price and the size of the unit, I thought I was going to get an adequate enough torch that would accomplish my low demand needs. But what I got certainly exceeded my expectations.
This torch is nicely constructed with a heavy metal body. It packs plenty of fire power (hehe, I like saying that) and has several nice features including a butane fuel gauge and an always important safety lock to ensure safe storage. It is very enjoyable to use, and it turned out to work perfectly when it came time to fire up the top layer of the Crème Brulee…which I must add tasted awesome! Check out my Creme Brulee recipe!
Overall, I am very pleased with my culinary torch purchase. I look forward to using it again on many more special recipes, aside from just Crème Brulee. I highly recommend this culinary torch to anyone who enjoys cooking unique dishes. Try this bad boy out for yourself…