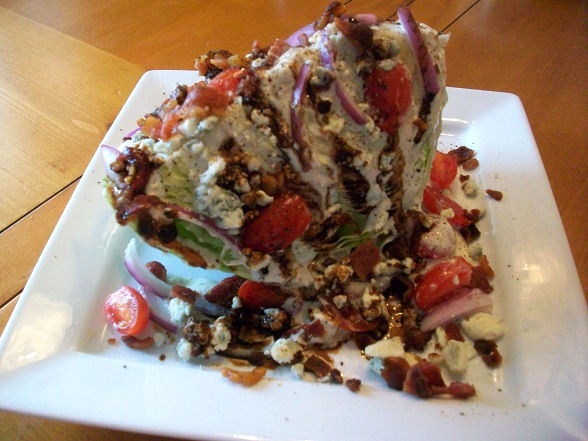 Blue Cheese Wedge Salad
This loaded Blue Cheese Wedge Salad recipe is very easy to make, and full of fresh ingredients. It can be eaten as a side salad, or even as a meal itself. This salad recipe features our Chunky Blue Cheese Dressing.
Ingredients
For the Blue Cheese dressing
1/2 cup mayonnaise
1/2 cup sour cream
1/2 cup buttermilk
1 tablespoon white wine vinegar
2 teaspoons Worcestershire sauce
1 teaspoon onion powder
1 teaspoon garlic powder
1 teaspoon dry mustard
1 teaspoon black pepper
1/2 teaspoon salt
2 teaspoons sugar
6 ounces crumbled blue cheese
For the salad
1 head iceberg lettuce, cut into 4 equal wedges
1 cup grape tomatoes, halved
1/2 cup chopped red onion
8 slices bacon, cooked and crumbled
1/2 cup balsamic vinegar
6 ounces crumbled blue cheese
Black pepper to taste
Instructions
For the Blue Cheese dressing
In a large bowl, combine mayonnaise, sour cream, and buttermilk. Mix well.
Next, thoroughly mix in the remainder of the ingredients.
Afterwards, refrigerate the dressing for up to 24 hours before serving for best flavor.
For the Salad
First, you need to cook the balsamic vinegar into a glaze. Heat the balsamic vinegar in a saucepan on medium heat. Cook until reduced by half, then remove from heat and allow to cool.
Meanwhile, place the iceberg lettuce wedge on a serving dish. Then liberally pour blue cheese dressing over top of wedge. Next, top with halved tomatoes, chopped onion, crumbled blue cheese, and crumbled bacon.
Drizzle a little of the balsamic glaze on top of the wedge, and sprinkle with black pepper. Serve cold. Enjoy this Blue Cheese Wedge Salad!
Notes / Suggestions
Serve this Blue Cheese Wedge Salad alongside a nice juicy steak!
Total Time (duration): 20-30 minutes
Number of Servings: 4