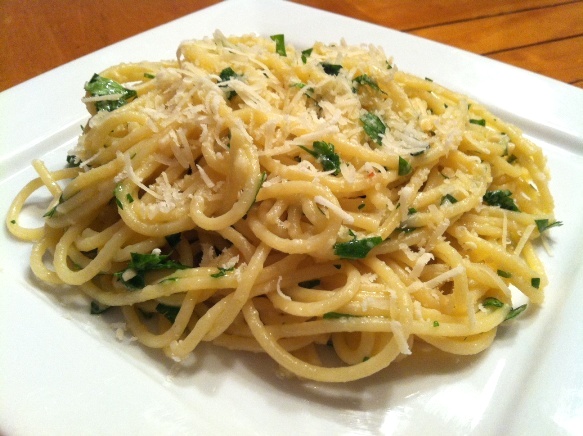 Pasta Aglio e Olio (garlic and oil)
This Pasta Aglio e Olio recipe is a flavorful classic Italian dish that goes great as the main course or as a side dish to a chicken or meat entree.  Aglio e Olio is Italian for "garlic and oil."  This tasty pasta recipe is very simple and easy to make.
Ingredients
1 pound dried pasta (spaghetti, angel hair, or linguine)
1/2 cup extra virgin olive oil
8 garlic cloves, minced
1 teaspoon crushed red pepper flakes
1 cup freshly grated Parmigiano Reggiano cheese, plus extra for garnish
1/2 cup fresh parsley, chopped
Salt and black pepper to taste
Instructions
Bring a large pot of salted water (approximately 2 tablespoons of salt needed) to a boil. Cook pasta for 8-10 minutes, until al dente, and drain.  Be sure to set aside 1 cup of the pasta cooking water before you drain the pasta.  This will be used to mix in with the garlic and olive oil sauce.
Meanwhile, heat olive oil over medium heat in a large pot.  Add garlic and cook for 1-2 minutes, or until garlic starts to turn golden in color.  Next, add the crushed red pepper flakes.  Then, add the reserved cup of cooking water from pasta and bring to a boil.  Season with salt if needed, and allow to cook for up to 5 minutes, stirring occasionally.
Remove from heat.  Then add drained pasta to the garlic and olive oil sauce and toss.  Next, add the grated cheese and parsley and toss well again.  You will want to allow pasta to rest for a few minutes after tossing to allow sauce to be absorbed.  Season with black pepper (optional) and garnish with additional grated Parmigiano Reggiano cheese when serving.
Enjoy this Pasta Aglio e Olio recipe!
Notes
You may choose to add anchovies to this Pasta Aglio e Olio recipe as well.  If you decide to make Aglio e Olio with Anchovies, you will want to add 4-6 anchovy fillets (minced) to the olive oil prior to adding the garlic and allow them to melt down.  If using anchovies, you may not want to season the sauce with additional salt as instructed above after adding the pasta cooking water.
I suggest serving this alongside my Chicken Marsala Recipe!