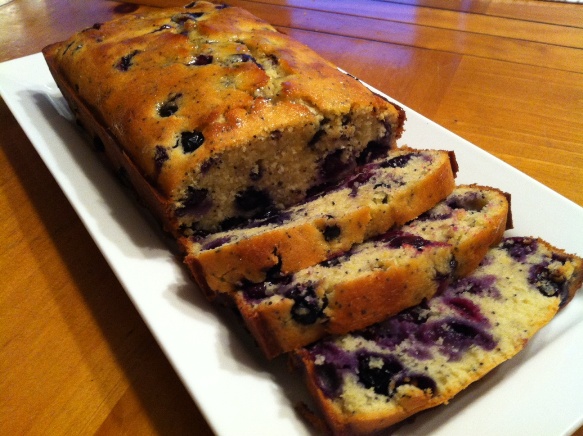 Lemon Blueberry Poppy Seed Loaf Bread
This Lemon Blueberry Poppy Seed Loaf Bread recipe is easy to make and perfect for any special occasion or the holidays. This loaf bread recipe features flavors of fresh blueberries, lemon, and poppy seed!
Ingredients
1 1/2 cups all-purpose flour
1 teaspoon baking powder
1/4 teaspoon salt
1 tablespoon grated lemon zest
3/4 cup granulated sugar
1/2 cup unsalted butter, at room temperature
2 large eggs
1/2 cup whole milk
1 tablespoon poppy seeds
1 teaspoon vanilla extract
1 teaspoon almond extract
1 cup blueberries
Lemon Glaze (optional)
1 tablespoon fresh lemon juice
2 tablespoons sugar
What you'll need:
9 x 5 x 3 inch loaf pan
Electric mixer or hand mixer
Cooking spray
Instructions
Preheat oven to 350 degrees F, with oven rack at center level of oven.
In a large bowl, whisk together the flour, baking powder, salt, and lemon zest.
Next, in the bowl of your electric mixer (or in a separate large bowl using your hand mixer), add the butter and beat until softened. Then add the sugar and continue to beat for an additional 2-3 minutes, until mixture becomes fluffy. One at a time, add the eggs and allow to beat into mixture thoroughly. Scrape down the sides with a spatula as necessary.
Next, add the milk, poppy seeds, vanilla extract, and almond extract. Continue to beat mixture on medium speed until combined. Gradually beat in the flour mixture until well combined. Gently fold the blueberries into the batter with a spatula.
Coat entire inside (including walls) of loaf pan with cooking spray to avoid sticking. Pour mixture into pan, and bake in oven until golden on the top and a toothpick inserted into the center comes out clean, approximately 55-65 minutes.
Remove from oven and transfer pan to a rack and allow to cool for about 15-20 minutes. Then remove the loaf bread from pan and place on rack to cool completely.
To make lemon glaze (optional), in a small saute pan at medium-high heat, combine the lemon juice and 2 tablespoons of sugar. Whisk thoroughly for 1-2 minutes, or until sugar has dissolved. Then, coat top of loaf bread with lemon glaze mixture. Enjoy this Lemon Blueberry Poppy Seed Loaf Bread recipe!
Notes
You may serve this Lemon Blueberry Poppy Seed Loaf Bread recipe as a dessert alongside a scoop of vanilla ice cream, or even as a breakfast bread!