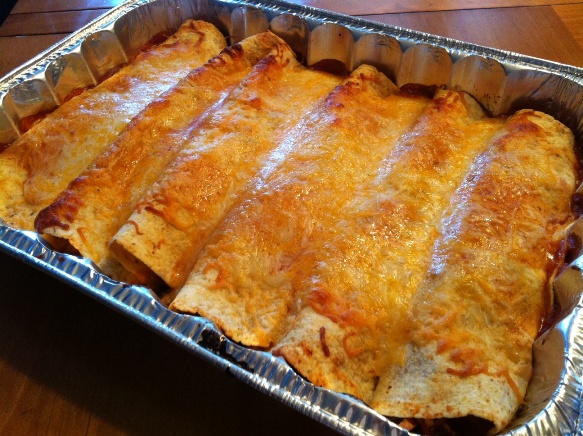 Chicken Enchiladas Recipe
This Chicken Enchiladas recipe is my delicious version of the classic Mexican dish! Sure to be a family favorite.
Ingredients
1 1/2 pounds boneless chicken breast
3 tablespoons vegetable oil
2 teaspoons garlic powder
2 teaspoons cumin powder
2 teaspoons taco seasoning mix
1 sweet onion, chopped
2 cloves garlic, minced
1 cup frozen corn, thawed
2 jalapeno peppers, seeded and chopped
3 small cans diced green chiles
1 (28 ounce) can stewed tomatoes
12 enchilada size tortillas (flour or corn)
1 cup of canned enchilada sauce
1 cup shredded Cheddar and Jack cheeses
Salt and black pepper to taste
Optional Garnish
2 tablespoons fresh cilantro, chopped
2 tablespoons scallions, chopped
1 cup chopped tomatoes
1 cup sour cream
Instructions
Preheat large saute pan over medium heat. Coat pan with vegetable oil.
Combine salt, black pepper, cumin, garlic powder, and taco seasoning mix in a small bowl. Sprinkle seasoning mixture over both sides of chicken, and add chicken to satue pan. Brown chicken in saute pan, allowin 5-7 min for each side. Remove chicken saute pan and allow to cool on a separate dish.
Next, saute onion and garlic in saute pan with chicken drippings until tender. Add corn, diced green chiles, jalapeno peppers, and canned tomatoes. Stir well to combine, saute for 2-3 minutes.
Pull chicken breasts apart by hand or with two forks into shredded strips. Add chicken to the saute pan and thoroughly mix with vegetables. Allow to cook for additional 2-3 minutes.
Meanwhile, microwave tortillas on high for 30 seconds to allow tortillas to soften. Coat the bottom of two (13 by 9-inch) pans with a ladle of enchilada sauce. Then spoon 1/4 cup of chicken mixture into each tortilla. Fold over filling, and place 6 enchiladas into each pan with seam side down. Top with remaining enchilada sauce and then shredded cheese.
Bake for up to 15 minutes in a preheated 350 degrees F oven.
Finally, garnish with cilantro, scallions, sour cream, and chopped tomatoes before serving. Enjoy this Chicken Enchilada recipe!
Feel free to serve this Chicken Enchilada recipe over beans and Spanish rice.
Total time:  60 minutes