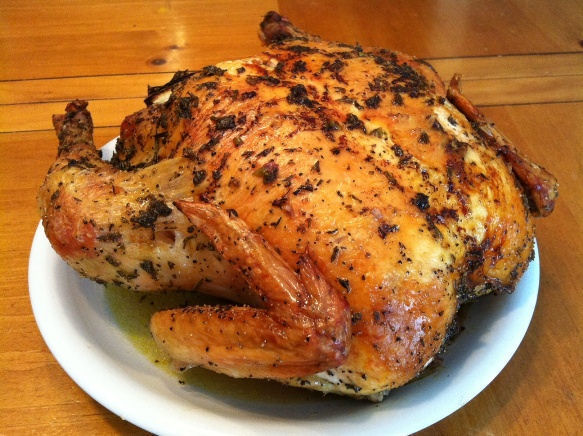 Herb Roasted Whole Chicken
This classic Herb Roasted Whole Chicken recipe is bound to be a family favorite. This oven roasted whole chicken recipe features herb infused natural flavors that will keep you coming back for more.
Ingredients
4 carrots, peeled and cut into thirds
4 ribs celery, cut into thirds
3 onions, peeled and cut into quarters
1 (6-8 pound) whole chicken, rinsed clean and patted dry
6 cloves garlic, halved
1 lemon, halved
2 tablespoons olive oil
2 tablespoons butter, melted
3 chopped sprigs each of fresh thyme, rosemary, and sage (spare 1 tablespoon of combined herbs for gravy)
Salt and black pepper to taste
1 cup chicken stock
1 1/2 tablespoons minced garlic
1 cup dry white wine
Instructions
Preheat the oven to 350 degrees F.
Meanwhile, in a large roasting pan, add the carrots, celery, and onion. Lightly coat with olive oil. Set aside.  (The vegetable combination is meant to serve as a bed for the chicken to rest on while cooking, rather than having the chicken rest directly on the bottom of the pan or using a rack, which can affect the flavor of the drippings used for the gravy)
Next, combine and mix the finely chopped herbs in a bowl with olive oil and melted butter. Season with salt and black pepper. Set aside.
Now onto the chicken.  Season the chicken both inside and outside with salt and black pepper. Stuff the lemon, garlic, and onion inside the cavity of the chicken.
Next, thoroughly rub the entire chicken with the herb mixture. Put chicken in roasting pan on top of vegetables.
Place the pan in the oven and roast the chicken for 2 – 2 1/2 hours, or until the juices run clear. To test the doneness, insert a thermometer in the thickest part of the chicken. The internal temperature should register at least 165-170 degrees F. Then, remove from the oven. Set chicken aside and allow to rest for up to 15 minutes before carving.
Meanwhile, pour the drippings from the pan into a saute pan on the stove burner (set to high heat). Whisk in the chicken stock, minced garlic, white wine, and reserved tablespoon of herbs, along with the drippings from the bottom of the pan. Season with salt and pepper.  Bring to a boil, then reduce to a simmer. Gravy should be reduced by half, until thickened.  Note:  Be sure to pour gravy through strainer prior to serving.  You may also whisk in 1-2 tablespoons of flour to thicken the gravy.
Finally, serve this Herb Roasted Whole Chicken with the gravy on the side!
If you'd like to thicken the gravy even more, then whisk in a few tablespoons of flour into the gravy while cooking. Pour gravy over the Herb Roasted Whole Chicken.
Total time: 3 hours