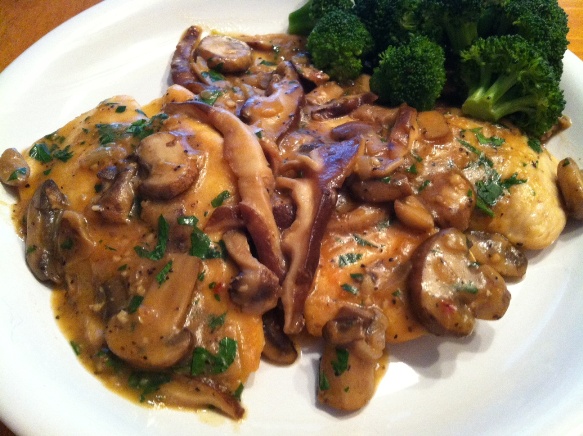 Chicken Marsala
If you're anything like me, you enjoy all types of Italian cuisine.  One of my many all-time favorite Italian dishes is the Chicken Marsala recipe.  This recipe has all the flavors of restaurant quality Chicken Marsala, yet is very simple to make. 
Ingredients
1/2 cup all purpose flour
1/2 teaspoon salt
1/2 teaspoon ground black pepper
1/2 teaspoon dried oregano
1 pound thin sliced boneless chicken breast
2 tablespoons olive oil
4 tablespoons butter
3 cups sliced mushrooms (cremini, portabello, shitake)
2 tablespoons chopped shallots
1 tablespoon minced garlic
1/2 cup sweet Marsala wine
1/2 cup chicken stock
1/4 cup chopped fresh parsley
Instructions
In a bowl or plate, combine and mix together flour with salt, black pepper, and oregano.  Dredge the chicken on both sides with flour mixture.
Heat olive oil and 1 tablespoon of butter in large skillet over medium-high heat.  Cook chicken until golden brown on both sides, approximately 3-4 minutes per side.  Place chicken on plate and set aside, making sure to keep warm.
Next, add an additional tablespoon of butter to pan.  Add shallots, garlic, and mushrooms to pan.  Cook until mushrooms are softened and browned, stirring frequently.
Mix in the Marsala wine and bring the boil.  When wine has reduced by half, add chicken stock and final two tablespoons of butter, and allow to cook an additional 3 minutes.
Lower the heat to medium and add the chicken back into pan and allow to cook an additional 3-4 minutes until sauce has thickened.  Add salt and black pepper to taste.  Garnish with chopped parsley and serve this delicious Chicken Marsala recipe!
Notes
My version of the Chicken Marsala recipe calls for "sweet" Marsala wine.  You could also make this recipe with "dry" Marsala wine, however I personally prefer the flavor profile of Chicken Marsala using the sweet variation of the wine.  Feel free to try this recipe with either version.