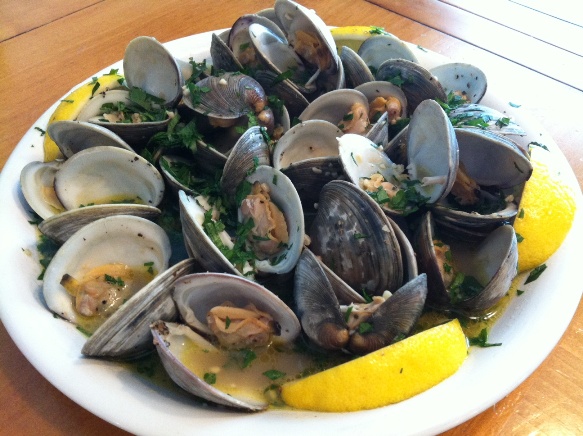 Sauteed Clams in White Wine Sauce
There's nothing more enjoyable than a heaping bowl of clams. This Sauteed Clams in White Wine Sauce recipe is very simple and quick to make.
Ingredients
3 dozen littleneck clams
3 tablespoons extra virgin olive oil
2 cloves garlic, minced
1 lemon, juiced
2 tablespoons butter
1/4 dry white wine
1/2 teaspoon black pepper
2 tablespoons chopped parsley
Instructions
Soak clams in cold water with a little salt for up to one hour, then drain.
In a large skillet, heat olive oil over medium-high heat. Add garlic to pan. Just as garlic starts to turn brown, add the clams, lemon juice, butter, white wine, and black pepper.
Cover and cook for up to 8-10 minutes, or until the shells open.
Remove from heat and transfer clams and juices to a large serving dish or bowl. Discard any unopened shells. Lastly, sprinkle chopped parsley over clams and serve this delicious Sauteed Clams in White Wine Sauce recipe!
Notes 
Be sure to serve this Sauteed Clams with White Wine Sauce recipe with a nice, hearty piece of bread so you can dip it in the delicious juices.