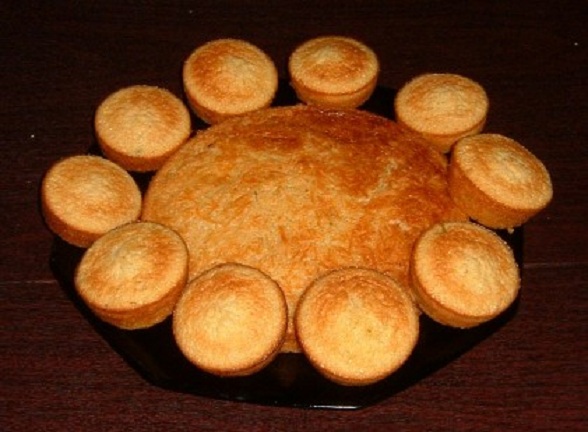 Redstone Cornbread with Maple Butter
This is not your grandma's cornbread!   This Redstone Cornbread recipe is a delectable twist on a classic.   A perfect balance of sweet and spicy, this is the best cornbread you will ever eat.  A definite comfort food staple.  Easy to make, and great to eat anytime with anything.
Ingredients
For the Redstone Cornbread:
3/4 Cup Cornmeal
3/4 Cup All Purpose Flour
1 1/2 Tablespoon Baking Powder
4 Eggs
3/4 Cup Sugar (white)
7 Ounces Creamed Corn
2 Ounces Diced Green Chilis, drained well
1/2 Cup Butter
1/2 Cup Shredded Monterey Jack and Cheddar Cheese blend
1/8 Teaspoon Ground Cayenne Red Pepper Powder (optional)
For the Maple Butter:
1 lb Unsalted Butter
1 Cup Maple Syrup (good quality syrup)
1/2 Teaspoon Kosher Salt
Directions
For the Cornbread:
In a bowl, mix cornbread ingredients in order listed.  Pour batter into 8" or 9" iron skillet (or glass baking dish works fine too).
Bake in oven preheated to 400 degrees F for approximately 35 minutes until done.  To check for doneness insert a toothpick in the center of the bread, if done it will come out clean.  If not, continue baking and checking for doneness every 5 minutes until done.
Set aside.
For the Maple Butter:
Allow butter to soften to room temperature.
Using a mixer (hand or stand) whip butter and salt together.  Drizzle in slowly the syrup until completely blended.
Spread butter on cornbread and serve.