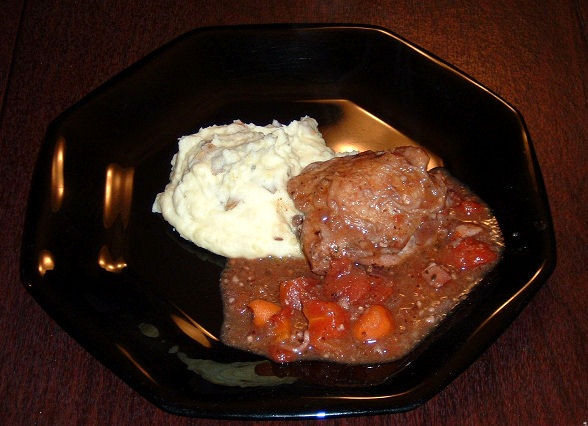 Coq au Vin with Roasted Garlic Mashed Potatoes
This is my "faux" version of the famous chicken recipe, Coq au Vin. Enjoy this Coq au Vin recipe paired with these delicious Roasted Garlic Mashed Potatoes for the perfect dinner combination!
Ingredients
For the Roasted Garlic Mashed Potatoes
3 lbs Potatoes
2 Teaspoons Butter
1 Whole Bulb of Roasted Garlic
1/4 Cup Cream Cheese
1/4 Cup Heavy Cream
For the Coq au Vin
5 Pieces of Thick Cut Bacon
1 Tablespoon of Olive Oil (approx.)
5 Chicken Thighs
3/4 Cup Flour
1/2 Teaspoon Salt
1/4 Teaspoon Pepper
1 Medium Onion
1 Cup Baby Carrots
1 Large (or 2 Regular sized) Shallots
2 Whole (or 1 teaspoon of crushed) Bay Leaves
2 Teaspoons of Chopped Garlic
2 – 3 Teaspoons of Flour
1 Tablespoon of Herbes De Provence
1/2 Cup Chicken Stock
14.5 oz Can diced tomatoes
1Teaspoon Balsamic Vinegar
5 Cloves Roasted Garlic
1 Cup Red Wine
Instructions
For the Roasted Garlic Mashed Potatoes
Cut the top off of the bulb of garlic. Place on cooking sheet, drizzle with extra virgin olive oil and bake in 375 degree oven for approximately 30 mins.
Clean, peel and quarter potatoes. Place in pot (3-5 quarts), cover with water. Cook on high heat, bring to a boil and continue to boil until potatoes are fork tender. Drain potatoes, return to pot over lowest heat setting, begin to mash with hand masher or mixer (I prefer to use the former).
Mash in butter, roasted garlic, cream cheese and heavy cream until fully incorporated. Add salt and pepper to taste. Add more or less heavy cream based on mashed potato texture preference.
For the Coq au Vin
In an oblong shaped, 5- 7 quart enamel coated cast iron pan (or dutch oven of the same quarts), drizzle with extra virgin olive oil. Over medium heat add bacon and cook bacon until browned on both sides.
Remove from pan and set aside for future use. In a bowl combine 3/4 cups of flour, salt and pepper. Dredge chicken thighs in flour mixture, shaking to remove excess. Place in hot pot, skin side down. Cook chicken until skin is golden brown, flip over and cook an additional 3 minutes.
Remove from pan onto plate, set aside for future use.
Reduce oil to approximately 2 – 3 teaspoons. Rough chop onions, shallots and carrots, then add to pot along with bay leaves. Cook over medium heat for 2 minutes then add garlic.
When onions are translucent add 2 – 3 teaspoons of flour to pot (flour addition should be approximately equal to oil). The onion mixture will thicken only slightly. After slight thickening of onion mixture, add Herbes De Provence and chopped garlic. Cook for two minutes then stir in chicken stock to de-glaze pot. Stir/scrape bottom of pot to loosen and incorporate all the flavors stuck to the bottom of the pot. Stir for several minutes (really, no more than 5 mins), then add diced tomatoes with liquid and balsamic vinegar.
Mash roasted cloves of garlic, then add to pot. Return chick thighs to pot, nestling into all that scrum diddly-iciousness. Lastly, pour red wine over the top. Cover and simmer for 35-40 minutes.
Then, serve the Coq au Vin with the Roasted Garlic Mashed Potatoes, and enjoy this delicious meal!
Total Time (duration): 1-2 hours