Today's Main Ingredient is Mushrooms!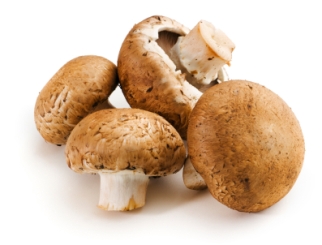 Could you imagine eating something that is considered a fungus?  Just the sound of that makes me cringe.   Well, when it comes to mushrooms, this well-known food ingredient is characterized as a fungus!  It's true!
There are several species of edible mushrooms.  The more common species include chanterelle, cremini, enoki, morel, oyster, porcini, portabella, shitake, white button, and wood ear.  Be wary of wild mushrooms, or attempting to grow mushrooms on your own.  You run the chance of ingesting a poisonous species!  Most poisonous mushrooms resemble edible species.Mushrooms are considered a widely popular source of food across the world, particularly in Asian and European Cuisine.  Mushrooms are typically a great additive to many meat, chicken, and pasta dishes.  In some instances, mushroom is considered a good alternative to meat! comes to mushrooms, this well-known food ingredient is characterized as a fungus!  It's true!
Mushrooms can be characterized as having an "earthy" flavor.  Each species has their own unique flavor that goes best with certain types of recipes and cooking techniques.  For instance, the popular portabella mushroom goes great with meat dishes and is ideal for grilling or roasting.  Other methods of cooking mushrooms include sautéing or broiling.
Preparing mushrooms is easy.  If the mushrooms are store bought, they may already be trimmed, cut, and ready to cook.  However, if not, you may need to trim off the end of the stem if it's dry.  Followed by slicing the mushroom the way you prefer, such as thin or thick, cut into quarters, finely chopped, etc.   In some instances, a recipe may only call for the cap of the mushroom.
If you're not planning on using fresh mushrooms immediately after purchased from the store, it is recommended to store the mushrooms in a brown paper bag in your refrigerator to maintain its freshness.  It is also recommended that you not freeze fresh mushrooms.
Note – Mushrooms are commonly believed to have little, or no nutritional value.  However, mushrooms are high in fiber, vitamins, and minerals.
Looking for a delicious recipe that features mushroom, try our Chicken with Mushrooms and Mozzarella recipe!