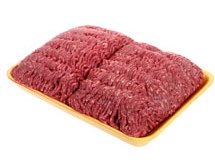 This week's Main Ingredient is Ground Beef!
There is sooo much you can do with ground beef.  So many excellent recipes.  Whether it's stuffed peppers, your famous meatballs, a hot pot of chile, or a beautiful day outside grilling burgers, ground beef is a must have ingredient in your freezer.  It can be used in thousands of recipes!
Ground beef is a very economical choice of meat to buy.  So stocking up on ground beef won't cost you an arm and a leg.  The best thing about ground beef is the fact that most recipes using it are very easy to make.
Did you know that in order for the meat to be classified as ground beef it must be at least 70% lean?  It's true!  Most supermarkets showcase meat anywhere from 85-95% lean.  The higher the fat content typically means more flavor.  Personally, I prefer a little more fat content for my hamburgers.
For storage, be sure to keep this meat frozen until ready for use.  I absolutely recommend only defrosting the amount of meat you need at any given time to avoid refreezing.
So what type of recipes do you have up your sleave that feature ground beef?  I look forward to finding out!
Looking for a delicious recipe that features ground beef, try our Sweet Glazed Meatloaf recipe!